Corruption Of Previous Five Years Destroyed Nigeria's Economy – Osinbajo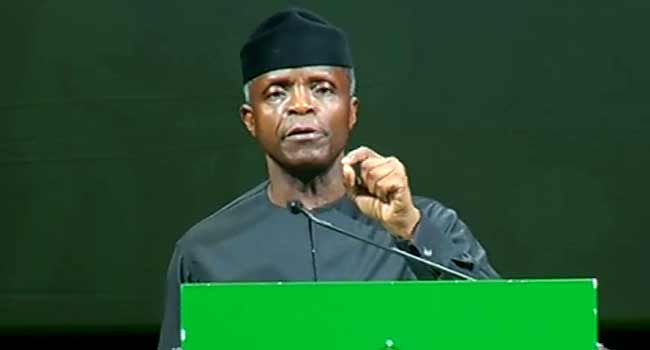 Vice President Yemi Osinbajo has accused those in government five years ago of destroying the Nigerian economy.
Professor Osinbajo said this on Thursday in Lagos while addressing an audience at a colloquium organised to mark the birthday of the National Leader of the All Progressives Congress (APC), Bola Tinubu.
READ ALSO: Our Goal Is To Unite Nigerians In A Mutually Beneficial Relationship – Buhari
He noted that President Muhammadu Buhari has clearly demonstrated why his administration is better than the previous governments, especially in the management of the nation's resources.
Osinbajo said, "From all I have seen in government in the past few years, the corruption of the previous five years is what destroyed the Nigerian economy.
"Every time we talk, we as a party, and your government must show the difference between us and the party and government that impoverished our nation."
The vice president further took a swipe at the immediate past government of the Peoples Democratic Party (PDP) for allegedly mismanaging Nigeria's resources.
He noted that when oil was between $100 and $114 per barrel In 2014, the actual releases for capital for three ministries – power, works, and housing (as separate ministries) – was N99billion in total, while transportation and agriculture got N14bn and N15bn respectively.
Professor Osinbajo compared the figures of the capital releases with that of President Buhari's administration when oil prices were between $50 and $60 per barrel.
He said the Ministry of Power, Works, and Housing received N415bn, while that of transportation and agriculture got N80bn and N55bn, totalling N560bn in a time when Nigeria earns at least 50 per cent less than what it earned in 2014.
According to the vice president, "It is possible because if you do not steal the resources of the people, you can spend it on projects that concern the people; if you are not stealing the money, you will spend it on the right things, and this is what we have seen."
He added, "There is no country in the world that will allow its resources to be plundered the way our own is plundered an expect to be economically viable, it is not possible. Nigeria is unlike any other country because of the level of corruption that was perpetrated."
Professor Osinbajo further asked the people join forces with the Federal Government to stop corruption in the country.
He, however, affirmed that government remains committed to ridding the country of corruption, saying "when you fight corruption the way we are fighting corruption, corruption is going to fight back."
The vice president also believes that when the government rises in defence of the people, especially the vulnerable, that is when it can ensure that those who have been taking Nigeria's resources are made to pay for it.