FG Committed In Rescuing Remaining Dapchi Schoolgirl – Reps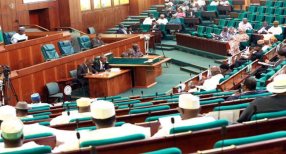 The House of Representatives  Adhoc Committee investigating the Dapchi has assured of the Federal Government's commitment to ensuring the quick release of the remaining schoolgirl, Leah Sharibu, who still held hostage by the Boko Haram.
Addressing journalists on Thursday in Dapchi after meeting with stakeholders with a view to forestalling future occurrence the committee chairman Hon Yusuf Buba also calls on the people of Dapchi to ensure the Girl-child education does not suffer despite the activities of the insurgents to cripple education in the northeast.
The 12 man committee set up by the House while in Dapchi had interaction with the parents, teachers, the traditional leader of the area as well as security personnel, local government authorities among others.
The stakeholders were given the opportunity to make their submissions, observations and recommendation on the whole scenario.
After the meetings, the committee Chairman Hon Yusuf Buba assured the people of Dapchi that the present administration is working towards the return of Leah Sharibu and task them never to allow Girl-Child education suffer as a result of the abduction saga.
Earlier the committee had called on the state Governor Ibrahim Gaidam, that their mission is to visit the state to commiserate with the parents and teachers of the students and to verify the remote and the immediate causes of the abduction with a view to forestalling future occurrences.
The committee according to him will not witch-hunt anyone but to work towards tackling any case of school abduction in the future.
The state Governor Ibrahim Gaidam, represented by his deputy Abubakar Aliyu, commended the House of Representatives for setting up the committee and called on the Federal Government to work hard towards ending the insurgency which has greatly underdeveloped the northeast region.
He commended security operatives and the radicalization programme of the federal government which is aim at rehabilitating the repented terrorists.