Alleged Looters' List Is Politically Motivated, Afterthought – Fayose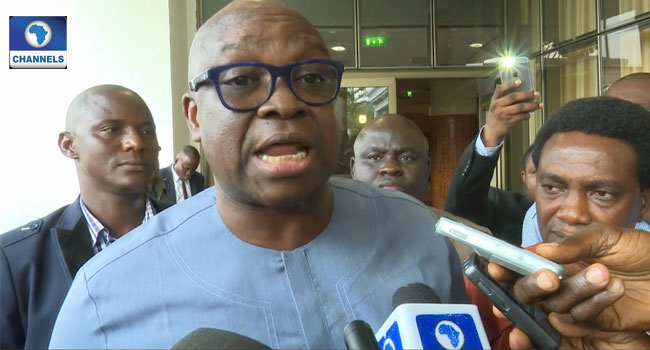 Ekiti State Governor, Ayodele Fayose, on Monday reacted to the list of alleged looters released by the Federal Government, describing it as politically motivated and also an afterthought.
The People's Democratic Party (PDP) governor tasked the Federal Government to focus on improving the welfare of Nigerian citizens rather than releasing list of corrupt persons.
"The first list of alleged looters released by the government is politically motivated and the second one is an afterthought that was done because Nigerians questioned the first list.
"Nigerians are more interested in their welfare, security of their lives and physical development of the country than tales of corrupt Nigerians' list," he said.
READ ALSO: FG Releases More Names Of Alleged Looters
Fayose in the statement which was signed by his Special Assistant on Public Communications and New Media, Lere Olayinka, claimed that the PDP never pretended like it had no corrupt member and accused the APC of hiding corrupt practices of its members.
"The Peoples' Democratic Party (PDP) never pretended to Nigerians that it had corrupt people in its fold and the party never protected them. Today, the party has gone ahead to offload the corrupt elements into the APC.
"A government that reinstated and promoted Abdullahi Maina, who was declared wanted for corrupt practices by the International Police Organisation, (INTERPOL) and dismissed in 2013 for alleged N2.1 billion pension is nothing but a government of plunderers," Fayose said.