2019: Borno Governor Canvasses Support For Buhari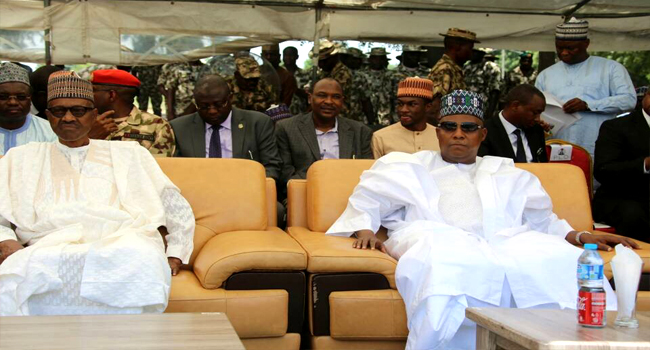 Governor Kashim Shettima of Borno State has called on all All Progressives Congress supporters to rally behind President Muhammadu Buhari in the 2019 presidential election.
The governor made the call in a Facebook post in reaction to the declaration by President Buhari that he would seek reelection.
President Buhari had put an end to speculations about whether he would go for a second term on Monday at the National Executive Council meeting of the APC in Abuja.
His Senior Special Assistant on Media and Publicity, Mr Garba Shehu, said in a statement that the President's decision was based on the clamour of Nigerians for him to re-contest.
As reactions trail the declaration by the President, many of his close allies have hailed the decision.
Governor Shettima, who along with other governors previously called on the President to seek re-election, welcomed the news.
"It is a traditional practice all over the world, that a popular sitting president gets his political party's right of first refusal in seeking reelection," he said.
The governor added that the President's declaration would put to rest the speculations of the past months and stabilise the polity.
He said, "As Nigerians can testify, silence on the part of the President creates uncertainty in the polity with all sorts of assumptions. I believe that Mr President's notice of intention will not only calm the polity but will indeed, give the APC a better sense of direction.
"Insha'Allah, as Governors, we will give the President and our party, all that is in us to once again, win the election."
He called on APC supporters to sensitise their friends, relatives, neighbours and colleagues about the challenges the Buhari administration inherited in 2015 and encourage them to support his re-election bid.
Before declaring his intention to seek re-election at the APC NEC meeting, President Buhari called on members of the party to remain united and ensure it fulfills its campaign promises to Nigerians.
He said, "With the present state of the party and based on the report submitted by the Technical Committee, it is important to focus on how to move the party forward by avoiding actions detrimental to the interest of the party.
"Considering that politics is a game of numbers, we must not be a house divided against itself and must try to note, appreciate and accommodate our differences as far as the law permits. Upon my review of the report, my position is to ensure that the party tows the path of unity, legality, and cohesion and not that of division," the President said.