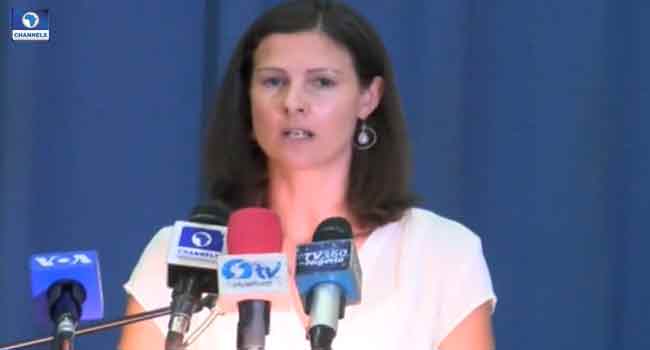 The British Government on Saturday called on the Federal Government to empower the female children by investing in the girl-child education
British Deputy High Commissioner, Ms Harriet Thompson, stated this during an annual Bring Back Our Girls (BBOG) annual Chibok girls' lecture in Abuja, the nation's capital.
She said, "Championing girls' education to promote global stability is a priority for the UK government and for the Foreign Secretary, Boris Johnson, who was here in Nigeria last year."
"By providing quality education and training, we are empowering the poorest and vulnerable girls to get the skills they need, to get the jobs, to build successful careers, to engaging politics, to have choice and authority over their futures."
Thompson also conveyed the deep condolences of the British government to the parents of the abducted pupils and those who have died from attacks in the restive northeastern states.
She further called on governments at all levels to secure the release of Leah Sharibu, an abducted pupil of Government Girls Science and Technical College (GGSTC), Dapchi in Yobe State from Boko Haram captivity.
"Leah Sharibu is still not returned from Dapchi. With all the thousands of others who have been taken and children who have been killed during the insurgency in the northeast of Nigeria," she said while sympathising with the parents of the abducted schoolgirls.
The envoy further renewed the commitment of the United Kingdom in supporting the girl-child education in Africa's most populous nation.
According to her, Britain places the priority of the female children more by providing qualitative and affordable training.
To Ms. Thompson, the British authorities are optimistic that its investment in the country would pay off someday with the emergence of a first female President.
The envoy believes that empower women is crucial to empowering the nation, a situation that can prepare the female folks for solving problems while being in positions of authority.
She stated further, "I hope that women are part of the solutions by providing the service that the people of Nigeria deserve. Let us hope that with the focus of education, we are preparing women to be in nice positions where they can take onto power and deliver for the people they serve."