Nigeria Remembers Chibok Abduction Four Years Later, Demands Release Of Schoolgirls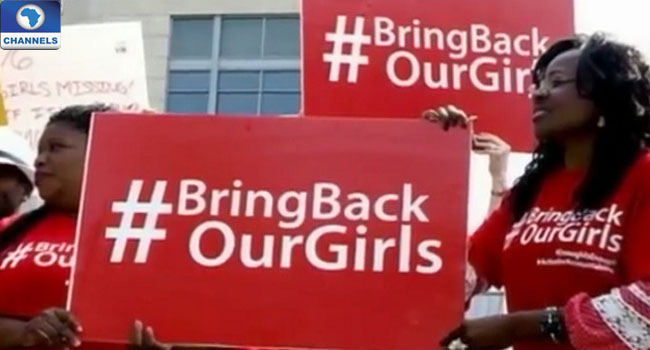 Today marks four years since the Boko Haram group abducted more than 200 schoolgirls from the  Government Girls Secondary School, Chibok, a town in Borno state, northeast Nigeria.
Their abduction drew international attention to the activities of the armed group, with several world leaders including former British Prime Minister, David Cameron, as well as the wife of the then U.S. President, Michelle Obama,  former United Nations Secretary-General, Ban Ki-moon, calling for the girls' release.
Since then, 107 girls have either been found, released or escaped.
Four years on, 112 girls are still being held by the group as campaigners for their freedom continue to press the Federal Government for their release.
In commemoration of the fourth anniversary, parents of the Chibok association have used the occasion to commend the Federal Government for those (girls) that have been rescued and also called for the release of those still held in captivity.
The schoolgirls were taken by the insurgents on April 14, 2014.
The leader of the Boko Haram sect who claimed responsibility for the abduction of the girls said that the reason behind the abduction was for western education to end.
"I abducted the girls at the western education school and you are disturbed. I said western education should end. Girls you should go and get married. I abducted your girls. I will sell them in the market by Allah. Allah says I should sell. He commands me to sell. I sell women," he said.
However, President Muhammadu Buhari has said that the remaining Chibok girls in Boko Haram captivity will not be forgotten as long as he remains Commander-In-Chief of the Armed Forces.
"Don't imagine for a moment that we have forgotten about our daughters or that we consider their freedom a lost course," he quoted the President, who is in London, as saying.
The President encouraged the parents to keep their hopes alive, noting that the recovery of more than a 100 of the girls that were kidnapped through the Federal Government's determined effort should give confidence that all "hope is not lost".
He added that the government remained focused and determined to see the girls return to their homes.