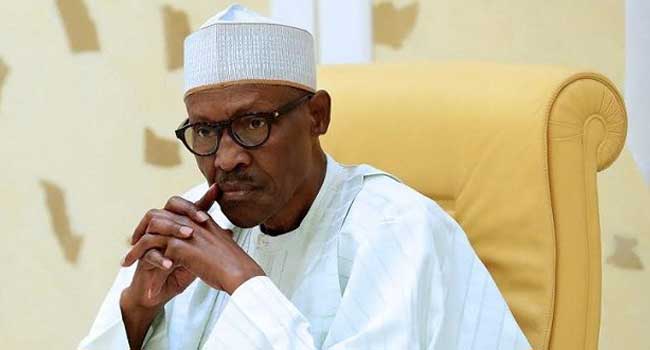 There have been reactions in various media to comments by President Muhammadu Buhari, criticising youths in the country at a Commonwealth Business Forum in Westminster, the United Kingdom.
In the video from The Cable, President Buhari said many of the youths below the age of 30 are uneducated, but they are waiting for everything to be done for them, just because Nigeria is an oil-rich country.
Speaking to Channels Television on Thursday, the president's spokesman Mr Femi Adesina explained that President Buhari was referring to some, and not all the young people in the country.
However, many of the reactions have been critical of the President's comments, some of whom accused him of describing the youths as lazy and being humourous with national pride.
See some twitter reactions below:
I am Nigerian. I paint homes and offices for a living.@MBuhari I am not lazy, we are not lazy!#LazyNigerianYouths pic.twitter.com/OE9Qulzrtn

— The Lady Painter (@LadyPainterNG) April 19, 2018
I'm a teacher in 3 different places. I also sell cars , I don't do anything illegal. I work round the clock.

I am a Nigerian youth.
I am a superwoman.
I am not lazy.#LazyNigerianYouths

— P.R.I.N.C.E.S.S (@OneBabeLikeThat) April 19, 2018
@Gidi_Traffic I am a 2nd class upper graduate of chemistry science from university of lagos, I am now a shoe maker cos I couldn't get a job, I am not lazy, I am not lazy I am not lazy#LazyNigerianYouths pic.twitter.com/7SfHnZhN8w

— Adegbesan Olusile (@d_4_dotun) April 19, 2018
Let me talk about youths in the Nigerian tech. industry. This is my domain. 🔥

These men & women work really hard. Blood & sweat make up a great chunk of their daily diet to make the most difficult things happen. THREAD!!! #LazyNigerianYouths

— Prosper Otemuyiwa (@unicodeveloper) April 19, 2018
I'm a graduate of Food Science and Technology with National Diploma and Higher National Diploma. As @MBuhari came on board in 2015, I graduated. Since Buhari couldn't provide me a job, I started my tailoring business @KAN_Royale, guess it qualifies me as a #LazyNigerianYouths pic.twitter.com/lQmS0BJuny

— Adeeko Kehinde T (@Adeekehinde) April 19, 2018
Suffer to Get admission, Suffer NOT to SLEEP with all the LECTURERS of YOUR GENERATION befr I graduate, then SUFFER to TRY NOT SLEEP WITH PEOPLE FOR JOBS TOO! And My country can't do NOTHING about it ! I am Violated in all Angles #LazyNigerianYouths

— AdeShola (@Adeshola_Konka) April 19, 2018
I am kuku not doing anything 🤷🏿‍♂️#LazyNigerianYouths pic.twitter.com/Qfj0beIINu

— Dotuncoolfm (@iamDo2dtun) April 19, 2018
#LazyNigerianYouths
Bsc in mass communication
A social Media manager
Customer Care Officer

A business woman. I don't make up to 100k monthly!

It is not easy but we are strong youth.

— jessica clark (@clarksimi) April 19, 2018
Meet Kate Ogechukwu, a Second Class Upper graduate of History and International Relations from Ebonyi state university, decided to go into charcoal selling to make ends meet, due to lack of Jobs.. #LazyNigerianYouths pic.twitter.com/cfvitanKM0

— Mr. Jack Robinson (@jackdre02) April 19, 2018
God bless every Nigerian Youth that is struggling to make ends meet. We will prosper 🙏🙏#LazyNigerianYouths

— KinG NomSo👑 (@ani_nomso) April 19, 2018
I'm a graduate of chemical engineering, currently doing my NYSC, a freelance graphics designer (an art I learned in my 3rd year in uniben), and pursuing a UK HSE certification. #LazyNigerianYouths

— HireAGrafixDesigner (@BosspalEugene) April 19, 2018
#LazyNigerianYouths One of my female followers in her mid-20s told me she is a carpenter. She manufactures and delivers furniture to homes and offices. She has her own workshop with employees.

— Uncle Sola (@solaadio) April 19, 2018
I hold a masters degree in geography but I sell amala and co for a living just because…… #LazyNigerianYouths #LazyNigerianYouths @idiarokitchen

— The Àdùké (@Dammielawlar) April 19, 2018
I work 8 Hours in the day only to come back to my art studio and work for another 5 hours in the night. I am a Nigerian youth and I am not Lazy. #LazyNigerianYouths @MBuhari

— Arinze Stanley (@Harinzeyart) April 19, 2018
Nigerian youths are willing to do jobs that they actually hate just to make ends meet. Nigerian youths adapt to EVERY situation to survive. Nigerian youths are not Lazy! #LazyNigerianYouths

— Moonlight✨ (@kinglucia_) April 19, 2018
Most Nigerian Youths are either Underpayed, or being owed salaries

Own businesses despite the harsh economy

Are trying to leave well & get Molested by SARS#LazyNigerianYouths

— KinG NomSo👑 (@ani_nomso) April 19, 2018