Metuh Challenges Court To Examine His Health Status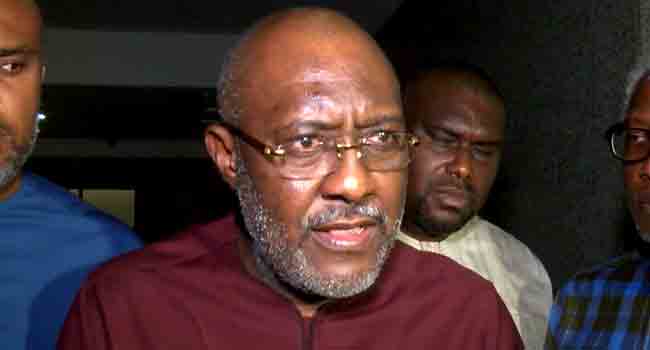 A former National Publicity Secretary of the Peoples Democratic Party (PDP), Mr Olisa Metuh, has challenged a Federal High Court sitting in Abuja to raise a medical panel to examine his true state of health.
Mr Metuh said this on Friday during an interview with reporters in Abuja, shortly after Justice Okon Abang set aside five days – May 21 to 25 – for the continuation of his trial for alleged corruption.
He is being arraigned by the Economic and Financial Crimes Commission (EFCC) and standing trial for alleged money laundering being part of the funds linked to former National Security Adviser, Colonel Sambo Dasuki (rtd).
The former PDP spokesperson, who called his eleventh defence witness at the resumed hearing, insisted that although his health is in serious jeopardy, he was more than prepared to prove his innocence.
"The court missed a wonderful opportunity to establish the state of my health. My lawyers, on three different occasions, moved applications for the prosecutions (the EFCC) to bring their medical personnel to examine the state of my health because issues to do with MRI (Magnetic Resonance Imaging), scan, and X-rays are scientific; they are not empirical," he said.
Metuh explained further that court could have set up a medical team, noting that to have findings without medical records was not the best practice.
He disclosed that he had been to three different Federal Teaching Hospitals in the course of his ill health, insisting that he has never done anything to perjure in court or to give the court false impression.
The defendant, who claimed there was a ruling where his counsel was directed not produce any medical records in court, asked the court to set up a medical panel to ascertain his true state of health to let Nigerians know whether he misled the court.
He, however, maintained that the money he was being accused of misappropriating was judiciously expended in the course of his assignment as the National Publicity Secretary of the party.
At the last trial on Thursday, Justice Abang had stated his reservations while delivering a ruling on an application filed by Metuh, seeking the release of his passport to enable him to travel abroad to treat a spinal cord ailment.
The trial judge questioned why the defendant had not appealed the two earlier decisions of the court that refused to release his international passport.
He voiced his suspicions that there might be a hidden agenda by the former PDP spokesman to present the court as inhuman, by filing the same application before the trial court a third time, rather than going on appeal.