'Smallville' Actress Charged With Sex Trafficking For Cult-Like Group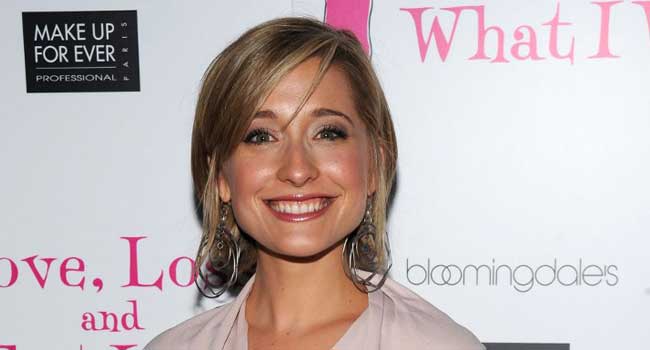 An actress from the popular TV series "Smallville" has been arrested on sex trafficking charges for allegedly recruiting women to a purported self-help group which forced them to have sex with its leader, US prosecutors say.
Allison Mack, 35, who was arrested Friday, recruited women for what was described as a female mentorship group, US attorney Richard Donoghue said in a statement from the Justice Department.
"The victims were then exploited, both sexually and for their labor, to the defendants' benefit," the prosecutor said.
The leader of the group was one Keith Raniere, also known as "Vanguard," the statement said.
Many of the women were branded with a symbol containing the initials of the leader of the group, which was based in Albany in upstate New York.
Raniere was arrested on sex trafficking charges in Mexico in March.
During the past 20 years, "Raniere established a series of purported self-help programs within his umbrella organization, called "Nxivm" (pronounced NEX-i-um)," the statement said.
It has operated centers in the United States, Mexico, Canada and South America.
It featured a pyramid scheme, as courses cost thousands of dollars each and participants were encouraged to pay for additional classes and recruit others in order to rise within the ranks.
Mack is accused of co-creating a Nxivm program that recruited actors.
"As detailed in court filings, in 2015, Raniere created a secret society within Nxivm called 'DOS,' an acronym that stands for a Latin phrase that loosely translates to 'Lord/Master of the Obedient Female Companions,' or 'The Vow.' DOS operated with levels of women 'slaves' headed by 'masters.'"
The "slaves" were expected to become "masters" by recruiting their own "slaves," who then "owed service not only to their own masters but also to masters above them in the DOS pyramid," the statement charged.
"Raniere stood alone at the top of the pyramid. Other than Raniere, all members of DOS were women. Mack is one of the women in the first level of the pyramid immediately below Raniere."
Women were told the organization would help then get rid of their weaknesses, and Raniere's position was not revealed to new recruits.
Those seeking to join DOS were required to provide collateral such as nude photos, damaging information about family or friends, or rights to assets.
"Slaves were told that their collateral could be released for any number of reasons, including telling anyone about DOS's existence or leaving DOS," the statement said.
Mack played Chloe Sullivan in "Smallville," a show about the raising of Clark Kent in Smallville, Kansas, before he became known as Superman. The series lasted 10 seasons.
Mack also had roles in the movies "The Ant Bully" (2006) and "Honey, We Shrunk Ourselves!" (1997).
AFP