Channels Kids Cup: Lagos Preliminaries Begin on Monday
The Lagos preliminaries for season ten of the Channels International Kids Cup will commence Tomorrow, Monday, 7th May 2018.
The thirty-two primary schools in Lagos state that passed the screening by the technical committee will compete for the two tickets that will take them to the international finals.
Last year's finalist, X-Planter Primary School from Ikorodu were drawn in group C and will play St. Jude's Private School, Festac Town in their opening match at the Campos Square Mini Stadium.
Lagos State Model Primary School, Badore, Naowa Primary School, Ikeja, Troika School, Lekki, Infant Jesus, Ajegunle, St. Bernadette School, Ipaja and Donmen School, Ajegunle are the other teams in group C
Green Haven Montessori School, Isheri North are optimistic of a good outing this year. They've been drawn in group A and will play their opening matching against Oke Ifako Primary School, Gbagada at the Isheri Mini Stadium.
Please see below for the groups and the match venues.
GROUP A (ISHERI MINI STADIUM)
Green Haven Montessori School, Isheri North
Oke Ifako Primary School, Gbagada
Islamic Model Primary School, Mushin
Mainland Model School, Mushin
Salaudeen Nursery & Primary School, Ikorodu
Innercity Mission Primary School, Ikeja
GROUP B (CAMPOS SQUARE MINI STADIUM)
Lagos State Model School, Badore
Naowa Primary School, Ikeja
St. Jude's Private School, Festac Town
X-Planter Primary School, Ikorodu
Troika School, Lekki
Infant Jesus Primary School, Ajegunle
St. Bernadette School, Ipaja
Donmen School, Ajegunle
GROUP C (ISHERI MINI STADIUM)
St. Paul Catholic Primary School, Apapa
Gem Private School, Omole Phase One
Army Children School, Abule-Egba
Akoka Primary School, Akoka
St. Paul's Anglican Primary School, Lagos Island
Eunifrance School, Ikorodu
Supreme Education Foundation School, Magodo
Maryland Convent Primary School, Maryland
GROUP D (CAMPOS SQUARE MINI STADIUM)
Community Primary School, Ikorodu
Abina Omololu Primary School, Surulere
Straitgate School, Magodo
Oke Isagun Primary School, Alimosho
Oye Primary School, Mushin
United Native of Africa (UNA), Ikorodu
Bols International School, Ipaja
Agoyi Primary School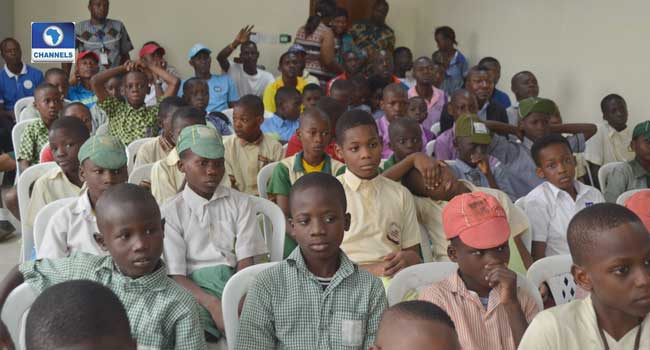 More on Channels Kids Cup