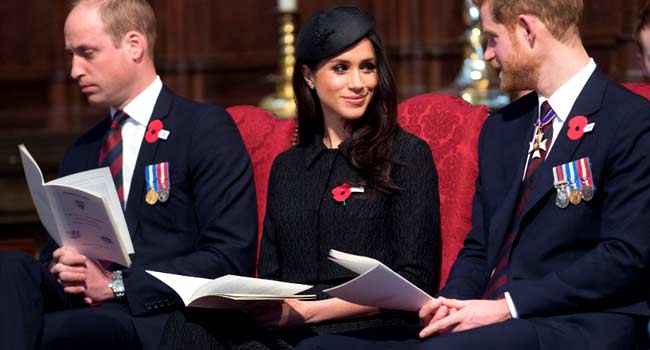 The head of the Anglican church in the United States will give the main speech at the wedding of Britain's Prince Harry and his US fiancee Meghan Markle, Kensington Palace announced Saturday.
The Most Reverend Michael Bruce Curry, primate of the Episcopal Church, will deliver the address during the ceremony at St. George's Chapel in Windsor Castle, west of London, on May 19.
"The love that has brought and will bind Prince Harry and Ms Meghan Markle together has its source and origin in God, and is the key to life and happiness," said Curry.
"And so we celebrate and pray for them today."
Kensington Palace previously announced that David Conner, the Dean of Windsor, will conduct the wedding service.
Justin Welby, the Archbishop of Canterbury who is the spiritual head of the Church of England and the leader of the world's 85 million Anglicans, will officiate over the marriage vows.
Curry became the 27th presiding bishop and primate of the Episcopal Church in November 2015. Aged 65 and from Chicago, he is the first African-American to serve in that capacity.
The Episcopal Church is a member of the global Anglican Communion led by Welby and counted 1.9 million active baptised members in 2015.
It caused a rift within the Communion in 2003 when it ordained the openly gay Gene Robinson as a bishop.
In 2012 it became the biggest faith group in the United States to approve a provisional rite for blessing same-sex unions.
Markle baptised 
Markle was baptised and confirmed by Welby in March ahead of her marriage.
She is understood to have chosen to join the Church of England out of respect for the role Harry's grandmother Queen Elizabeth II has as supreme governor of the Anglican Communion's mother church.
Markle's father is an Episcopalian, while her mother belonged to another Protestant denomination.
Nonetheless, Markle attended a private Roman Catholic girls' school in Los Angeles.
Harry is sixth in line to inherit the crown.
Catholics are excluded from succession to the throne, and the sovereign must be in communion with the Church of England, swear to preserve it and promise to uphold the Protestant succession.
Before a 2013 law came into force across the 16 Commonwealth realms that share Queen Elizabeth as head of state, people who married Catholics were also excluded from the order of succession.
AFP