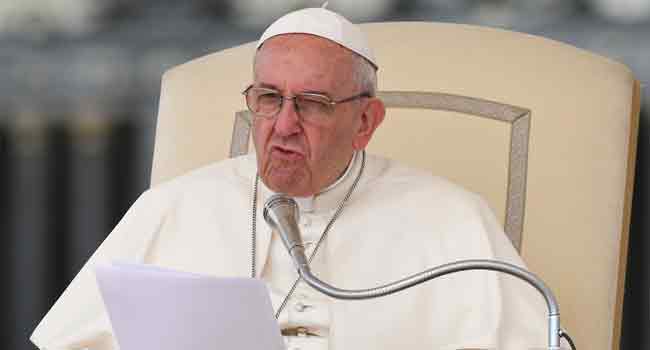 Pope Francis began receiving Chilean bishops at the Vatican on Tuesday in a bid to address a child abuse scandal within the Church in Chile that has come to haunt his papacy.
The 34 bishops, three of whom are already retired, are to hold private and group meetings with the Argentine pontiff between Tuesday and Thursday.
"Firstly, we want to share our pain and shame," said Bishop Fernando Ramos, a spokesman for the Chilean delegation.
"Pain because there are victims of sex abuse, and shame because these abuses occurred within the Church," he told reporters.
The visit comes two weeks after Francis held private meetings with three victims of Chilean paedophile priest Fernando Karadima, and promised to adopt "adequate and lasting" measures to stop child sex abuse within the Catholic church.
Karadima was forced into retirement in 2011 after eventually being found by the Holy See to have been a serial abuser of minors during the 1980s and 1990s.
Controversial cardinal Javier Errazuriz, a key advisor to Francis, was also summoned as part of the Chilean delegation at the pontiff's request.
Errazuriz is accused by Karadima's victims of ignoring and helping to cover up the abuses committed by Karadima.
Major shakeup? 
In a statement, the Vatican said Francis believed it was "necessary to examine in depth the causes and consequences, as well as the mechanisms that have led, in certain cases, to concealment and serious omissions towards the victims."
Speaking to reporters, Bishop Ignacio Gonzalez said: "The main focus is the victims, we can always make amends and move towards reconciliation with them."
The unprecedented summoning of the Chilean delegation is also a chance for Francis to repair some of the damage done during his visit to Chile in January, when his defence of controversial Chilean bishop Juan Barros caused a public outcry.
The pontiff strongly defended Barros, who was also accused of covering up Karadima's abuses, saying that he was convinced of his innocence and demanding "proof" before he would speak out against him.
He later apologised to the victims, admitting he had made "grave mistakes" after reading a 2,300-page report on the abuse in Chile.
Experts and sources within Chilean church suggested the pope could remove Barros from his duties and set in motion a major shake-up of the church hierarchy within the Latin American nation.
AFP