Ghana's Ex-President Mahama Hints At 2020 Presidential Run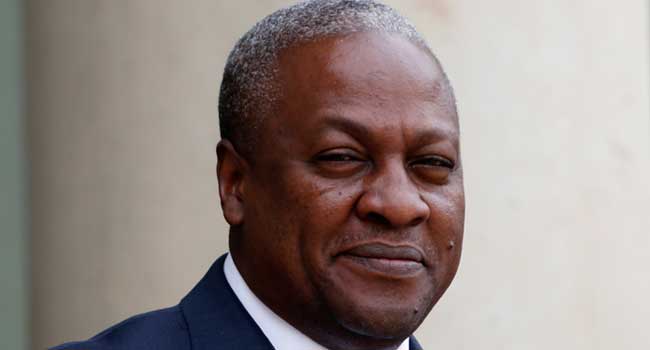 Ghana's former president, John Mahama, has hinted at a bid for leadership of the opposition party, in a move that has triggered speculation ahead of presidential elections due in 2020.
Mahama, who campaigned as the National Democratic Congress (NDC) candidate, lost his re-election bid to President Nana Akufo-Addo in 2016.
"To you the teeming supporters and sympathizers calling and requesting me to declare my intentions for the future, I wish to assure you today, that as a servant-leader, I have listened to your calls and reflected," Mahama said Saturday in a statement posted to his official Facebook account.
"I will not disappoint you even as we await the publication of the party's guidelines for selecting a new leader," Mahama said.
If he formally declares, Mahama will be contesting the nomination at the party's primary in November.
His announcement has been hailed by party executives and supporters, who believe he is the favourite for the ticket.
Kofi Adams, NDC's national organising secretary, told AFP on Monday that the news was "welcome".
"He has a track record and the party can only campaign based on his achievements so it is an excellent decision for John Mahama to contest as flag-bearer for the NDC party. Ghanaians are looking for the return of the NDC," Adams said.
Pollster Ben Ephson said Mahama still controls the support base of the party which will make it difficult for anyone to contest him.
"The more candidates they have the more advantageous it is for Mahama. They can get talking to see if they can join forces to beat Mahama," Ephson told a local radio station on Monday.
Mahama lost the 2016 election to Akufo-Addo's New Patriotic Party (NPP) over a faltering economy and corruption allegations.
Ghana is one of Africa's fastest growing economies in 2018, fuelled by a surge in oil and gas production.
The West African country is also a major producer of gold and cocoa.
AFP