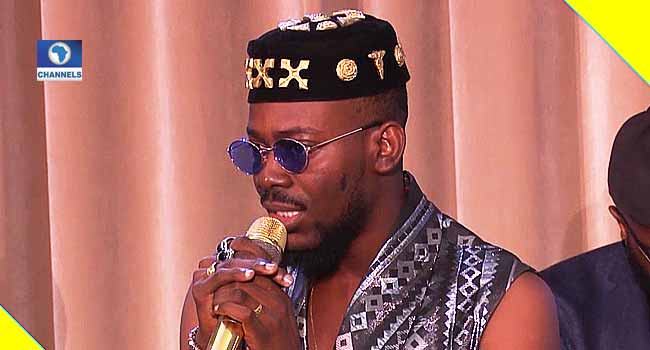 Afro-pop artist, Adekunle Gold, is back with a bang as he drops his sophomore album 'About 30'.
Nearly two years after the release of his debut, 'Gold', the urban highlife and alternative music artiste this time, dug into his life story and shared lessons from his experiences in the 14-track album.
With the release, just days after his first performance in Paris, France at the Nigerian French Cultural Exchange, it has indeed been an eventful week for Gold.
He delighted guests with live recitals, alongside celebrated actress, Kemi Lala Akindoju, who took up an unlikely role as his backup singer.
In an interview with Channels Television after the event, he said he was so humbled by the opportunity to share his craft.
Also speaking about the events that inspired the new album, he said, "About 30 is my second album, the first album was Gold.
"About 30 is the continuation of the story, it is my life story, the things have experienced, things that I learnt growing up, things that I've learnt from others and other people's stories that I just kind of tap into to talk about.
"People tell me their stories and somedays I see something's on twitter and I want to talk about it."
His first hit single 'sade', which he says was a combination of rock and afro precautions still proves to be a crowd pleaser all the time.
According to him, the new album will be nothing short of that, as it is a fusion of many different sounds. He also says that in no time, he hopes to get the tracks to top the charts.
"About 30 is a fusion of a lot of sounds I listened to growing up, there is afro-pop, juju, highlife, and bongo. So, it is a combination of all the songs I listened to growing up," Gold said.
Another aspect fans may find thrilling is the track listing which shows interesting collaborations and lineups including Seun Kuti, son of Nigerian music legend Fela Anikunlapo-kuti and Flavour, among others.
On the potentials of the music industry, Gold highlighted the need for artistes to feature one another in producing good music for their various audiences.
"People feature each other, and it has been amazing. I think artist should collaborate because (the idea is) you bring your sound and I bring my sound and we make magic together, you bring your fans and I bring my fans then we grow together – Collaboration is something that I definitely love because I myself, I have started doing stuff and I don't think there is problem doing so".