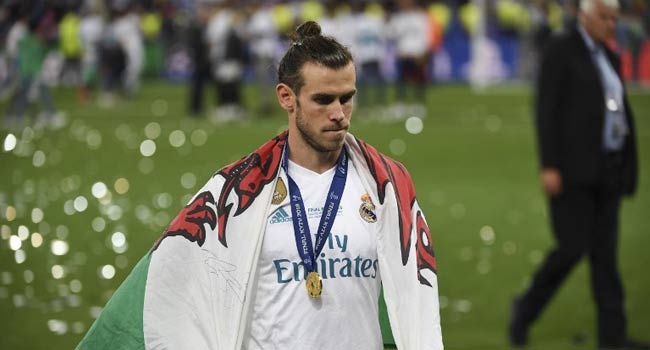 Gareth Bale hinted he will consider leaving Real Madrid after the Wales star inspired their 3-1 Champions League triumph over Liverpool with one of the greatest goals ever scored in the final.
Bale blasted an astonishing overhead kick to put Real ahead in the 64th minute and sealed the silverware with his second goal — a long-range effort in the closing moments that Liverpool goalkeeper Loris Karius dropped into his own net.
It was an incredible contribution from Bale, who had been on the pitch for only three minutes when he launched into his brilliant acrobatic effort.
The 28-year-old, who also scored in the 2014 final against Atletico Madrid, has now won four Champions League crowns since moving to Madrid from Tottenham in 2013.
But Bale has endured a difficult season marred by regular spells on the bench as he struggled to convince Madrid boss Zinedine Zidane to give him a starting place.
Amid talk of a potential close-season move to Manchester United, Bale was asked if there was a chance he could return to the Premier League in the coming months.
His answer expressed his frustration with Zidane and will be seen as a clear come-and-get-me plea to England's biggest clubs.
"Obviously I was very disappointed not to start the game, I felt I deserved it but the manager makes the decisions," Bale told BT Sport.
"The best I have been doing is to come on and make an impact, I certainly did.
"I need to be playing week in, week out and that has not happened this season.
"I had an injury five, six weeks in but I've been fit ever since.
"I have to sit down with my agent in the summer and discuss it."
Bale's majestic contribution underlined the quality he can bring to a team willing to pay Madrid's asking price.
The substitute said the goal was the best of his career.
"It has to be the best goal. In a Champions League final, there is no bigger stage. I am just happy to get the win," he said.
"It is a team game but when you are a substitute, it is a game of more than 11 players. I made an impact."
After flopping in La Liga, Madrid have salvaged their season in style, clinching a third successive Champions League title — the club's 13th in their illustrious history.
"We know what we have achieved and how good we have been. The league was disappointing but we won the Champions League. It turns out to be a great season," Bale added.
"We let everyone else speak. We know how hungry we are in the changing room, how prepared and motivated we are."
AFP