Dino Melaye Resumes Plenary With Walking Stick, Neck Brace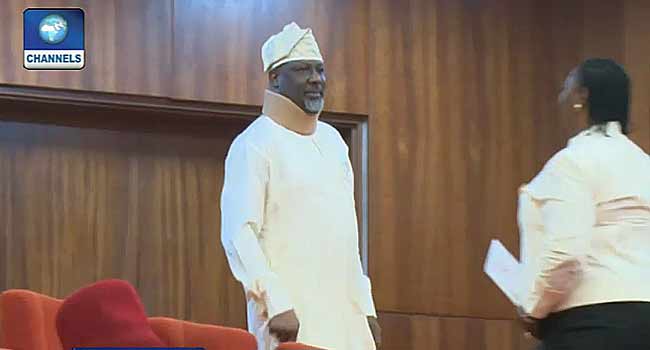 The embattled lawmaker, Senator Dino Melaye, on Wednesday walked into the Red Chambers with the aid of a walking stick and a neck brace, supporting his neck.
The lawmaker, who is representing Kogi West resumed plenary after two weeks in police detention.
During the plenary, he is asked for the permission of the Senate President to allow him to be seated at the opposition side of the chamber.
READ ALSO: Dino Melaye Resumes Plenary, Opts To Sit With PDP Members
Senator Melaye specifically requested to sit next to former Senate President David Mark who is in the opposition party the Peoples Democratic Party (PDP) to enable him to recover fully from trauma suffered while in Police custody.
"I want to crave your indulgence that you would call on the Sergeant-at-arms to look for a comfortable seat for me on this side of the divide because I am no longer comfortable sitting here.
"So, I want to ask Mr President that you mandate the Sergeant-at-arms to look for a seat for me on this side of the divide of the Chamber. Before you do that, today, through the help of my walking stick, I will take a comfortable seat close to Papa, Senator David Mark pending when you get me a comfortable seat on this side," Melaye said.
See Photos below…