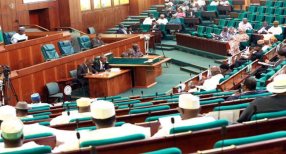 The House of Representatives has prohibited the use of electronic for elections in the country.
The lawmakers took the decision during plenary on Thursday at the Lower House of the National Assembly in Abuja.
READ ALSO: President Buhari Signs 'Not Too Young To Run' Bill
With nine months to the general elections, they passed the bill for an act to amend the provisions of the Electoral Act, No 6, 2010.
The bill, which is different from that which the President refused to assent to, contains the legalisation of the card reader voting system.
It also includes the safekeeping of the voters' register and what happens in the event of a candidate's death among others.
However, the lawmakers specifically excluded the clause to reorder the election sequence from the bill while some amendments were made to the bill before it was passed.
One of the alterations is the amendment to the clause which mandates the Independent National Electoral Commission (INEC) to keep the register at specific locations across the country.
In the event of electoral violence, the House seeks the disqualification of a candidate alone without including the political party, and such a candidate will not be eligible to recontest the election.
The House proposes that if a card reader fails in a polling unit, the election will be suspended and reconducted within 24 hours and mandates INEC to monitor the primaries of various political parties.
Election Sequence Altered?
The lawmakers had voted for the change of the order of elections in January while the Senate adopted a new election sequence in February.
The proposal, however, suffered a setback on March 13 when President Muhammadu Buhari withheld his assent to the amendment of the 2010 Electoral Act.
He had stated that altering the sequence of the election in section 25 of the Principal Act might infringe on the constitutionally guaranteed discretion of INEC to organise, undertake and supervise all elections provided in section 16(a) of the constitution.
A majority of the lawmakers at both chambers had proposed that the National Assembly polls be conducted first, followed by the state lawmakers, and the governors, while the presidential election should take place last.