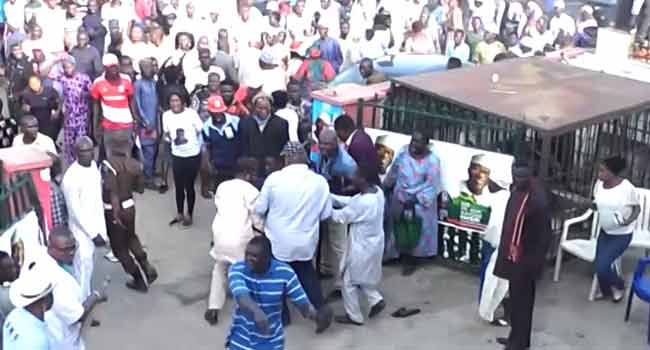 The Chairman of the All Progressives Congress (APC) in Ekiti State, Mr Jide Awe, says Dr Kayode Fayemi was a target of shooting during the party's rally on Friday.
The APC was holding its takeoff campaign for the July 14 governorship election at its secretariat in Ado-Ekiti when what appeared to be an accidental discharge occurred.
A former member of the House of Representatives, Opeyemi Bamidele, and another party faithful were wounded by an armed policeman as a result of the incident.
Although the police authorities in the state have confirmed the incident, they said they have begun an investigation into the shooting.
The party chairman, however, told Channels Television that the shooting was aimed at Fayemi, the party's governorship candidate, while Bamidele coincidentally fell victim of the shot.
He also said the man who fired the shot was dressed in a mobile police uniform, stressing that the former Reps member was walking with the former minister.
"When he shot at the crowd, I believe sincerely that he (the police) aimed at Dr Kayode Fayemi but narrowly, he (Fayemi) was pushed by somebody walking behind him," Mr Awe revealed during a telephone interview on Politics Today.
"Opeyemi Bamidele was equally very near him and the shot hit him. But I can say authoritatively that he's not badly hit, and he is recovering as we are talking," he added.
The APC chairman, who witnessed the incident, noted that those at the scene thought the shot was fired by an overzealous officer who was trying to pay respect to the former minister.
He said was just returning from the hospital and proceeding to another medical facility where the other gunshot victim was being attended to.
Asked how sure he was about his claim that Fayemi was the target of the shooting, Jide insisted, "To a reasonable extent because he and Bamidele were walking together but narrowly, he was pushed by somebody behind him (although not intentional).
The incident happened two days after Dr Fayemi resigned his position from President Muhammadu Buhari's cabinet as the Minister of Solid Minerals Development.
He resigned two weeks and some days after the former minister won the APC rescheduled primary election which held on May 12.