Death Toll From Tunisia Migrant Shipwreck Rises To 52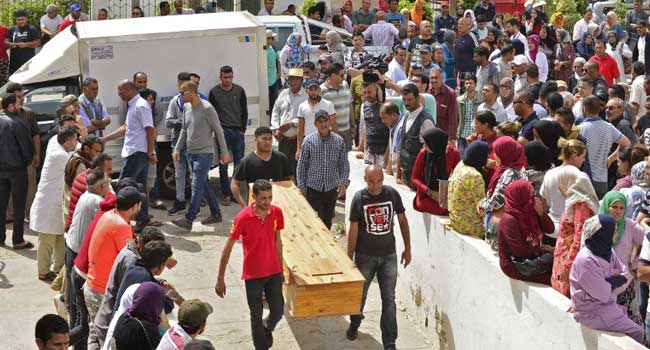 The Tunisian navy has recovered four more corpses from a deadly shipwreck of migrants over the weekend, bringing the official number of victims to 52, the interior ministry said on Tuesday.
"The toll is now at 52 corpses recovered, 48 of which have been identified," ministry spokesman Khalifa Chibani told AFP.
Chibani said the identified bodies belonged to "36 Tunisians and 12 foreigners", referring to migrants from sub-Saharan Africa.
A total of 68 survivors — including 60 Tunisians — have been rescued since search operations began early Sunday off the Mediterranean coast of Tunisia's southern city of Sfax.
Survivors said there were at least 180 people on board when the overloaded fishing vessel began to sink late Saturday night near Tunisia's Kerkennah Islands off Sfax.
Search efforts continued Tuesday, with a helicopter flying over the island chain, according to an AFP journalist on site.
Police had deployed across the islands ahead of an anticipated visit later Tuesday by Prime Minister Youssef Chahed.
On Monday, Chahed called for greater efforts to quickly dismantle the "criminal networks that profit from these young people looking to emigrate and putting their lives in danger".
Tunisian authorities are hunting for eight suspects, all of whom are from Kerkennah, the interior ministry said.
The shipwreck is the deadliest in the Mediterranean since February 2, when 90 people drowned off the coast of Libya, according to the International Organization for Migration.
On Monday the IOM said "at least 112 people died" in the weekend wreck, with dozens still missing based on survivors' accounts of passenger numbers.
The Sfax sinking came as Italy's new hardline Interior Minister Matteo Salvini visited the Italian island of Sicily — one of the main landing points for migrants attempting to reach Europe from Tunisia and Libya.
Salvini used the trip on Sunday to promote his anti-immigration stance, saying he would not allow Italy to become "the refugee camp" of Europe.
Tunisians and other migrants regularly try to cross the Mediterranean to seek a better future in Europe.
In March, 120 people — mostly Tunisians — were rescued by the navy as they tried to reach the Italian coast.
AFP