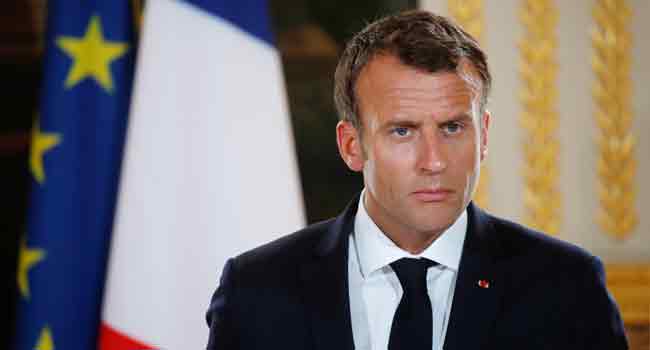 French President Emmanuel Macron has warned of the risk of an "escalation" in the Iranian nuclear standoff after Tehran announced plans to boost uranium enrichment capacity to pressure Europeans scrambling to save a landmark deal.
At a press conference with visiting Israeli Prime Minister Benjamin Netanyahu, the French leader called on "everyone to stabilise the situation and not give into this escalation which would lead to only one thing: conflict."
While noting that Iran had stepped up the pressure with its latest announcement, Macron also pointed blame in the direction of US President Donald Trump for unilaterally pulling out of the hard-fought 2015 deal designed to stop Tehran getting a nuclear bomb.
"When you decide to bring an end to a deal on your side, that does not encourage the other party to respect it," he said, calling this "solid common sense".
He stressed he had "no indication" that Iran had breached the terms of the deal, which Trump walked away from last month.
And while he agreed with Netanyahu that the deal had flaws, he added: "If you consider it insufficient but that it's a step forward from what exist before, it's better to keep it."
Netanyahu, who has vigorously opposed the Iranian deal, said he had not attempted to convince Macron to abandon it.
Instead he said he believed Europe would give up on its efforts to save it under pressure from the US, which has threatened sanctions against European countries which continue to do business in Iran.
"I did not ask President Macron to leave the deal. I think that economic realities are going to decide this matter, so it's not what we focused on," he said after talks between the two leaders.
"What we focused on, and what I focused on, is how to stop Iranian aggression in the region."
He accused Tehran of using the "cash bonanza" from sanctions relief under the deal "not to develop Iran, not to make it more moderate", but to build up its forces in war-torn Syria.
"They want to bring in 80,000 Shiite fighters, from Afghanistan, from Pakistan," he claimed.
"What that will do is spark another religious war, another civil war… and where will the refugees go? They'll go to one place, to here (France) or to Germany or to Europe," he said, repeating a similar warning to Germany's Chancellor Angela Merkel on Monday.
AFP