Osun State Govt Hosts Channels Kids Cup Runner-Up
The Osun State government has hosted pupils of a school in the state – Baptist Primary School, Ada Owode – who came second in the Channels International Kids Cup.
At the ceremony in honour of the pupils,  the government pledged to continue providing a conducive environment for the students in the state to achieve their potential.
To achieve that, the Chairman of the state Universal Basic Education Commission (UBEC), Mr Felix Awofisayo, explained that the government had provided a lot of facilities in all elementary schools across the state to enable them to compete favourably with their mates not only within the nation but beyond the soil of Nigeria.
Awofisayo is hopeful that the children would be nurtured to harness their talents fully by becoming professional footballers that would represent the country in the nearest future.
He is also excited that Channels Television started and has sustained the competition.
"Kudos to Channels Television for reviving the spirit of catching them young. If not for Channels, these talents would probably rot away," he said.
Baptist Primary School, Ada Owode lost out to pupils of LGEA Central Primary School, Kwara State by a 3-1 goal.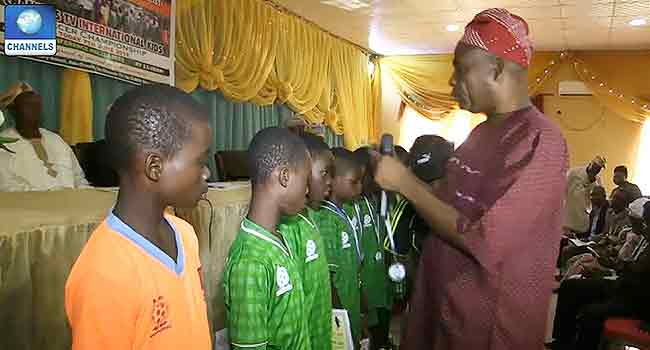 The Channels International Kids Cup football competition is a social responsibility programme organised by the management of Channels Television.
Sixteen primary schools participated in the competition and their performance thrilled lovers of the game, government officials and the Nigerian Football Federation.
The Lagos State Governor, Mr Akinwunmi Ambode, who was at the final of the competition rewarded the top three teams with a sum of N5 million.
Baptist Primary School got N1.5 million while Emmanuel Anglican Primary School in third place received one million Naira.
X-planter Private School from Lagos who finished 4th position were not left out as the governor donated a sum of N500,000 to them.