Ukrainian Lawmakers Fire Finance Minister, Approve Anti-Corruption Courts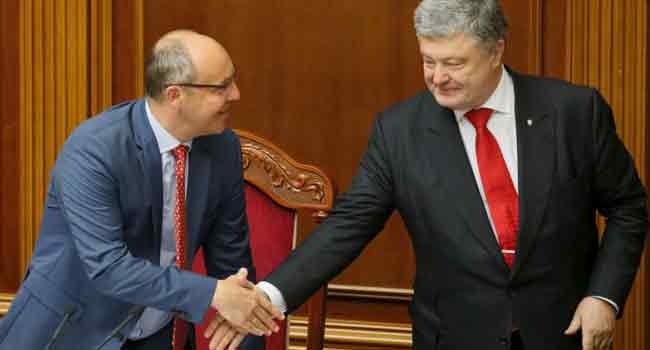 Ukrainian lawmakers on Thursday approved key legislation to create an anti-corruption court while also voting to dismiss the country's finance minister, a respected reformer backed by the West.
A total of 254 lawmakers in the 450-seat parliament supported a motion submitted by Prime Minister Volodymyr Groysman to sack Oleksandr Danylyuk.
The 42-year-old anti-corruption campaigner ruffled many feathers as he sought to clean up the former Soviet country's fiscal and customs services.
Supported by global donors including the International Monetary Fund, his dismissal is expected to raise concern among Ukraine's lenders and foreign governments.
In another crucial development, earlier on Thursday, the parliament approved in the second and final reading a draft law to create an anti-corruption court — a key IMF condition for it to distribute more aid to Ukraine.
President Petro Poroshenko hailed the move as a "victory for Ukraine" after 315 lawmakers supported the legislation, with just 25 voting against.
"I believe this is a historic day," Poroshenko said in parliament.
Ukrainian lawmaker Sergiy Leshchenko expressed hope on Twitter that the creation of the anti-corruption court would "restore the confidence of international financial institutions and support the hryvnya," the country's currency.
Ukraine's Western allies have long called on Kiev to reform the country's kleptocratic system and create an independent court to handle corruption cases.
But the IMF and the World Bank have in the past criticised Ukraine's draft legislation for the anti-corruption court, saying it was not in line with Western recommendations.
There was no immediate reaction from Kiev's foreign allies on the adoption of the legislation.
"International partners of Ukraine will most likely need more time to scrutinise amendments to the bill adopted today," a Kiev-based Western source told AFP.
Over the past years, global lenders have provided Ukraine — which is locked in a conflict with Russian-backed rebels — with billions of dollars of financing to allow its stricken economy to stay afloat.
AFP