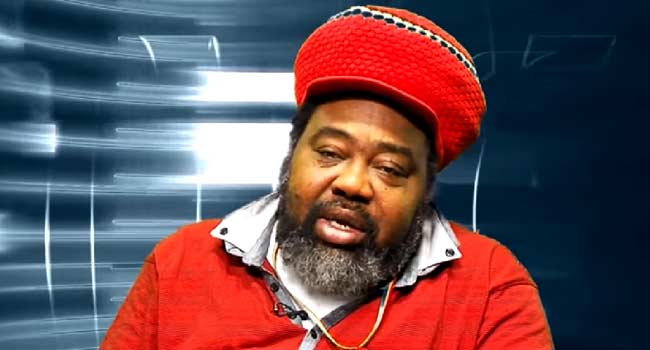 The death of legendary reggae music icon Ras Kimono has been greeted by numerous tributes and condolences from his fans.
Nigerians took to Twitter on Sunday to mourn the Ras Kimono who died on Sunday in a hospital in Lagos.
READ ALSO: Reggae Star Ras Kimono Is Dead
Key players in the music industry, including a factional Chairman of the Copyright Society of Nigeria (COSON), Tony Okoroji, have also sympathised with the family of the deceased.
Ras Kimono got broke through into stardom following after his debut album 'Under Pressure' in the late '80s.
He won several awards including the Nigeria Music Awards and Fame Music Awards among others.
Condolence messages and tributes have continued to pour in for the late reggae artiste.
Rip Ras kimono, we will miss you greatly.

— Nlekwa Peter (@nlekwa_peter) June 10, 2018
Oh nooooo 😭😭😭😭😭😭😭…… This is a very sad news

— AIYEBO OLUSOJI (@AIYEBOOLUSOJI) June 10, 2018
RIP Ras Kimono! His songs were a staple at kids parties in the 80's & early 90's. I remember dancing to his music as a kid.#sad

— juliana osemeke (@julianaosemeke) June 10, 2018
stop that brake dance! Rip kinomo de want..rest in peace bro..you made your mark..thank u so much..Adieu..

— @nickamuda (@nickamuda1) June 10, 2018
under pressure is GONE. #RIP

— Afonrinwo Olalekan (@lekanafonrinwo) June 10, 2018
Almighty God give the family they heart to bear they lost

— victoria essien (@vicessien) June 10, 2018
I lost a big brother and friend. He called me the "Mafia Mayor". He was a pillar in reggae music world. Adieu my brother for you are no longer "under pressure".

— C-Strokes (@CStrokesMusic) June 10, 2018
RIP Raskimono. Just yesterday morning I was listening to your music on radio, 'under pressure', only to hear of your passing today.😭😭😭😭😭😭😭😭

— Uzoelue henry (@hcapable) June 10, 2018
Ras Kimono was a crusader for the masses. He used his music to speak to injustice and oppressive government. RIP Kim

— michael (@nzeagwu_mike) June 10, 2018
Rip Ras Kimono, really saddened by your demise, I'll always love & remember your songs, Rhumba Style, Under pressure ,Ayaga yagayagayo

— pat paul (@blessedpat2018) June 10, 2018
One of the Nigerian musical greats who made reggae so enjoyable in the 80s & 90s in the country and beyond. Adieu me brethren.

— Ayoola Ponle (@AyoolaPonle) June 10, 2018
the exodus of the greatest, good bye we are UNDER PRESSURE now than before.

— Onuh Moses Onyekachi (@onuh_onyekachi) June 10, 2018
Death yuh did wussa
R.I.P Pupa Kimono

The Big tree falls out..
🔥🔥🔥

Hotter tins

— Aborisade Adetola (@AborisadeAdeto1) June 10, 2018
Ras man, me in deep sorrow. Am a humbled by ur demise. Respect agwan. Yea ma good man wit a golden heart n voice. Jah almighty gifted u wit good lyrics for mankind. Respect man, agwan! We the children of jay are all pained. Rest well kimono. Respect! Good man! Rest on. Respect.

— OBINNA AGBO. (@drxley) June 10, 2018
Haha not now. Rest in peace. I grew up listening to your music as a boy. Miss you. Thanks for a worthy life lived.

— UnyimeSamuel2 (@UnyimeSamuel2) June 10, 2018
What's Gawn
Rub-A-Dub-Master
Jag Guide
Do the Ska
💃💃💃💃💃💃
Music of the season #RIPRasKimono

— Inyangaeze (@jeomaltd) June 10, 2018
Rest in peace. >>> 🎼🎼🎼🎼 Kimono styleee …different from that rest. *sad face*.

— Konk Naija Inc (@MediaKonkNaija) June 10, 2018
Rip another legend is gone when we were expecting a collaboration with some of these young vibrant artist

— i am hassan (@SuleHassanA) June 10, 2018
RIP kimono, your song made our childhood fun. Now, socosoco children can't connect with this story. But it's fine.

— Xi Jin Pin – patriot (@Foxyneville) June 10, 2018
Aromah styely styely…. Rest in peace the legend

— Fashina Olatunji Yus (@fash1982) June 10, 2018
A very sad end. My condolences the family

— Engr Julius Oboh (@JuliusEngr) June 10, 2018
Dead is an unavoidable end, every one would surely died one day, Sad end!!! I can't say, Ras Kimono made impact

— Rotimi Adeola-Ojumu (@rotimiadeola) June 10, 2018
Ooh What a loss ! Grew up listening to him. Contributed greatly to our music industry. May his soul rest in peace.

— OG Osakwe (@OsakweOg) June 10, 2018
Ras Kimono Ayoo Lord RIP

— The most (@Mengesi1) June 10, 2018