Ekiti Governorship Election: INEC Presents Voter Registers To Parties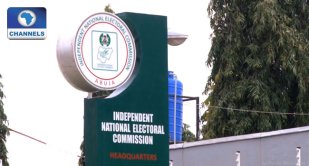 The Independent National Electoral Commission (INEC) in Ekiti state has presented voters' registers to political parties ahead of the state's governorship election, scheduled to hold on July 14.
The commission also gave the assurance that it will do all it can in ensuring a smooth electoral process, coupled with the use of technology.
Speaking to journalists, INEC's National Commissioner, Adedeji Shoyebi, also warned aspirants to avoid getting involved in any form of electoral malpractices.
"We are not just conducting a good election in Ekiti, we are going to conduct an excellent election that will be a model for other states to admire.
"This is not a time to go after our officials to induce them, it will not work," he said.
Speaking further, Shoyebi noted that Ekiti state has the lowest number of eligible voters in the country by current statistics.
He, therefore, stressed the need for the people to take elections seriously.
35 political parties are expected to participate in the election, while 563,051 voters according to INEC, have collected their PVC's.
Read Also: Ekiti Poll: INEC Releases Full List Of Governorship Aspirants
The commission, however, said that more than 353,000 PVCs are yet to be collected.