Special National Honours Investiture For Abiola, Others In Pictures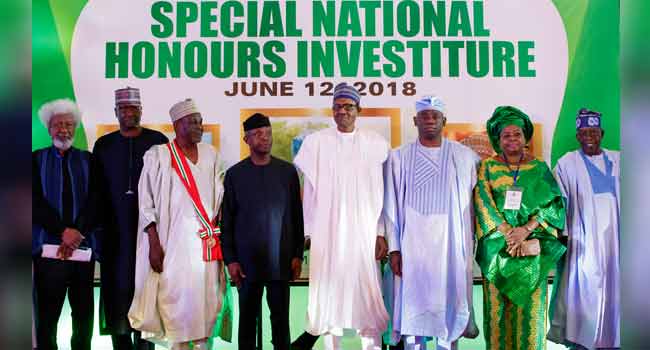 President Muhammadu Buhari on Tuesday formally conferred a posthumous national honour of Grand Commander of the Federal Republic (GCFR) on MKO Abiola, the presumed winner of the June 12, 1993, presidential election.
The President also honoured Abiola's running mate in the election, Ambassador Baba Gana Kingibe, and late respected human rights activist, Gani Fawahinmi, with the national award of Grand Commander of the Niger (GCON).
READ ALSO: Buhari Apologises To MKO Abiola's Family On Behalf Of Nigerian Government
The ceremony, which held at the Presidential Villa in Abuja, comes 25 years after Nigeria held an election which is recognised as the freest in its history, and presumably won by Abiola.
Kingibe was present to receive the award in person while Abiola's son, Kola, as well as Fawehinmi's widow, Ganiyat, received the awards on behalf of the deceased.
In his speech at the event, President Buhari apologised to the Abiola family and others who lost their loved ones to the June 12 struggle.
Buhari Officially Confers GCFR Title On MKO Abiola
He said, "On behalf of the Federal Government, I tender the nation's apology to the family of late MKO Abiola, who got the highest vote [in the election], and to those that lost their loved ones in the course of the June 12 struggle."
See highpoints of the event in the pictures below;