Borno Govt, Dangote Build Houses For 200 Widows
At least 200 widows have benefitted from the 200 housing units jointly built by the Borno State Government and Nigerian businessman, Mr Aliko Dangote.
The state government had commenced rebuilding of towns destroyed by the insurgents, with a plan to relocate the affected population to areas considered safe, to enable them to start their lives again.
Nigerian philanthropist and chairman of the Dangote Group, Aliko Dangote, who is a consistent donor to the IDPs, subsequently keyed into the resettlement vision of the state government, by making a generous donation of two billion Naira.
The state, on the other hand, complemented it by covering other expenses.
At the commissioning of the Dangote Village, situated in Dalori town in Kunduga Local Government Area, on Tuesday, Mr Dangote noted that unlike other beneficiaries of his foundation who would normally request for cash, the Borno community had requested for materials to help in rebuilding their community.
Read Also: 2,000 IDPs Return Home From Bakassi Camp In Borno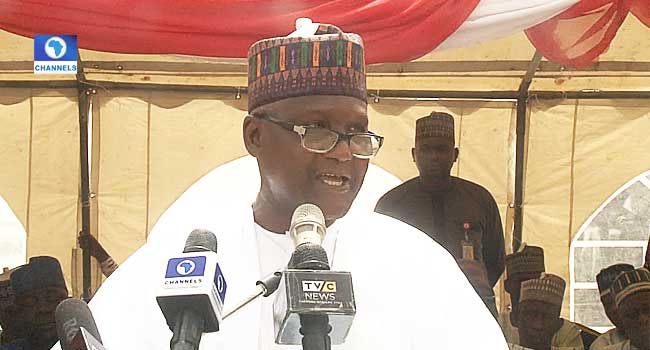 He said, "Anywhere we pledge, to make a donation, people request for the cash.
"But you requested that you don't want to see any of our Naira, you want to see it in materials which is very, very rare.
"It is against this backdrop and with consultations between the Dangote Foundation and the State Government that we provided building materials which included cement, aluminum and galvanized roofing sheets, iron rods, ceiling boards, as well as fabricated doors and windows worth one billion Naira to undertake the construction of what we are commissioning here today".
Mr Dangote also called on other well-meaning Nigerians to support the initiative and help reduce the pains and sufferings of those affected by un-rest in the North-East.
It gives me great joy to commission 200 housing units built by @AlikoDangoteFdn for IDPs; each unit specially built to house a family and with the provision of tools by Borno StateGovt. to sustain their livelihood, I am positive we are on the right path towards achieving our goal

— Aliko Dangote (@AlikoDangote) June 18, 2018
I am also calling on other well-meaning Nigerians to support this worthy cause and help ameliorate the pains and sufferings of people affected by un-rest in the North-East.

— Aliko Dangote (@AlikoDangote) June 18, 2018
The state governor, Mr Kashim Shettima thanked the philanthropist for the donations and for helping the state achieve its goal of rehabilitating victims of Boko Haram insurgency.
"With the construction of this village, I'm so glad that we have a permanent symbol of Alhaji Aliko Dangote in Borno State.
"In line with the principal objective of touching the lives of those in absolute need, we have ensured that 200 resettlement houses in this modern village, are allocated to persons who are direct victims of Boko Haram insurgency," the governor said.