Nick Kyrgios Ruins Andy Murray's Queen's Comeback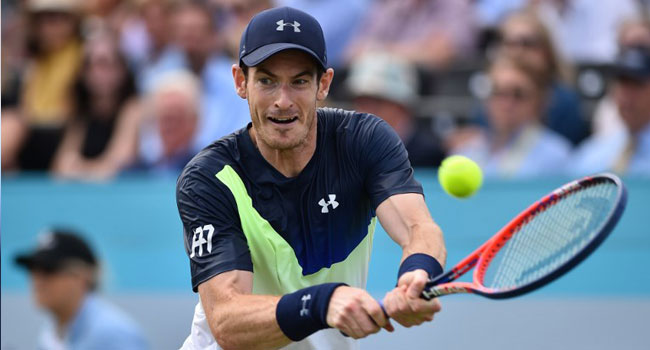 Andy Murray endured a frustrating return from his injury nightmare as the former world number one was beaten 2-6, 7-6 (7/4), 7-5 by temperamental Australian Nick Kyrgios in the Queen's Club first round on Tuesday.
Murray gave an encouraging display in his first competitive match in 11 months after finally recovering from the hip problem that required surgery in January.
But the 31-year-old Scot couldn't secure a fairytale comeback as Kyrgios recovered from first set accusations of 'tanking' (losing without trying to win) to knock out the five-time winner of the Wimbledon warm-up event.
Finally back on the court for the first time since a Wimbledon quarter-final defeat against Sam Querrey 342 days ago, Murray had low expectations of his return after several aborted comeback attempts.
But the two-time Wimbledon champion, whose ranking has plummeted to 156, will have taken heart from the way he competed, even if there were signs of rust in his shot-making and movement at times.#
Kyrgios has been accused of tanking in the past when matches have slipped away with little effort.
And just days after the world number 21 almost beat Roger Federer in Stuttgart, he sabotaged himself with a series of bizarrely loose shots in the first set.
Former British player Andrew Castle, commentating on the match for the BBC, said: "This is a tank from Kyrgios.
"He's just hitting the ball as hard as he can. That's fine but don't expect us not to call it because it is."
Despite that helpful contribution from his good friend, Murray gradually ran out of steam and Kyrgios found his composure to seal his first win over the Scot at the sixth attempt.
"I was thinking how great it was to see Andy back. I asked if he is was okay at the end of the match and he was," Kyrgios said.
"He came out really good and I kind of expected that. Regarding my own style, I've been entertaining since I was kid.
"I've got bad and good things but I'm never going to change."
Watched by wife Kim and mum Judy, Murray was given a rousing reception as he walked onto the court and responded with a bashful wave to the crowd.
Murray had described his protracted rehabilitation, which featured only two exhibitions outings since Wimbledon last year, as the toughest spell of his career — a painful period of absence he said had reaffirmed his love for the sport.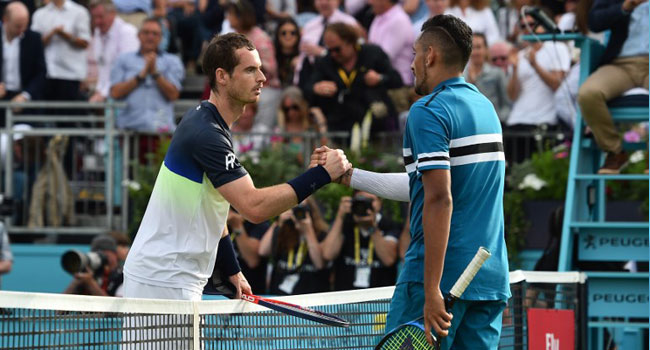 Cathartic
All the demons from those anxious medical updates and gruelling hours in the gym could finally be exorcised as Murray traded ground-strokes with Kyrgios from the baseline before capping the first point of his return with a cathartic forehand winner.
When Kyrgios tried an optimistic half-volley from the baseline, Murray scampered to the net to meet with a superb winner that proved his desire remains as strong as ever.
Murray's returns were driving Kyrgios to distraction — not that he needs much excuse to lose focus — and a double fault gave the three-time Grand Slam champion the first break for a 4-2 lead.
With Kyrgios apparently complaining about his fitness and blasting a series of wild second serves, Murray finished the first set with ease.
Even when Kyrgios broke twice in the first game of the second set, the 23-year-old still didn't seem happy, muttering "Am I wasting my time" while dropping his own serve.
Murray took advantage, recovering from 4-2 down to force a tie-break, but a suddenly focused Kyrgios took the break to force a deciding set.
Inevitably labouring as the match passed two and a half hours, Murray refused to surrender to his aching body and dug deep to save two match points at 4-5.
But fatigue finally got the better of him when a tired double fault handed Kyrgios a win that leaves Murray to concentrate on building his stamina ahead of next month's Wimbledon.
AFP