2018 Budget: SERAP Accuses National Assembly Of Crime Against Humanity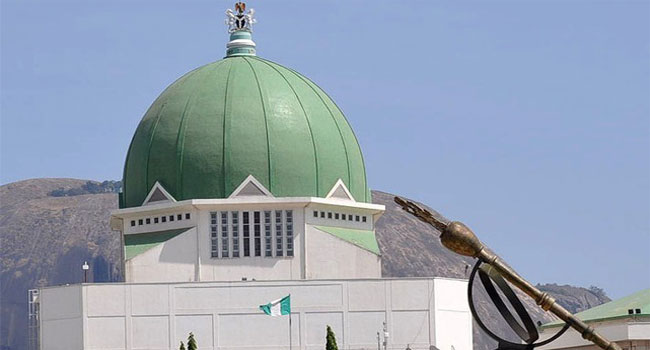 The Socio-Economic Rights and Accountability Project (SERAP) has accused the National Assembly of committing crimes against Humanity as the lawmakers allegedly cut funds meant for critical projects in the 2018 budget.
In a statement on Thursday, signed by its Deputy Director, Timothy Adewale, SERAP said the lawmakers had cut down funds for critical projects such as health, education, housing and security, and replaced them with their own personal projects totalling 6,403 and amounting to N578 billion.
It, therefore, asked President Muhammadu Buhari to consider prosecuting the leadership and members of the National Assembly.
Their request comes a day after President Muhammad Buhari signed the 2018 appropriation bill into law.
Read Also: Buhari's Speech At Signing Of 2018 Budget [Full Text]
The President had criticized the National Assembly for reducing allocations for some projects and including thousands of projects into the budget without consultation with the Executive.
According to him, many of the projects cut were critical and could be difficult, if not impossible, to implement with the reduced allocation.
"Some of the new projects inserted by the National Assembly have not been properly conceptualised, designed and cost and will, therefore, be difficult to execute," he stated.
However, he said that he was determined to continue working with the National Assembly to improve the budgeting process and restore Nigeria to the January-December fiscal cycle.
The President also noted that he seeks to remedy some of the most critical issues "through a supplementary and/or amendment budget" which he hopes the National Assembly will be able to "expeditiously consider".
But beyond this, SERAP has advised the President to prosecute lawmakers who are directly responsible for cutting down critical areas of the budget.
The statement read in part: "Instruct the Attorney General of the Federation and Minister of Justice, Mr Abubakar Malami, to open discussion with the office of the Prosecutor of the International Criminal Court (ICC) to establish whether substantial grounds and the requisite elements exist to warrant the intervention of the Prosecutor in this case.
"We note that under the Rome Statute, the Prosecutor has the power to intervene in a situation under the jurisdiction of the Court if a state party, such as Nigeria, refers a situation to the court.
"Indicting individual lawmakers suspected to be most responsible for the reduction of funding for critical projects would provide a much-needed measure of accountability for leaders who have traditionally acted with impunity, assured that they will never be held to answer for their actions.
"Cutting funding for essential public services such as health, education and security constitutes a serious human rights violation and potentially rises to the level of crimes against humanity against the Nigerian people," SERAP said.