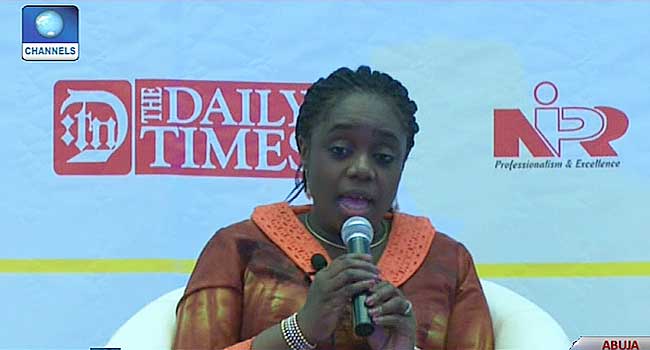 The Minister of Finance, Mrs Kemi Adeosun, has reiterated the Federal Government's commitment to infrastructure development in the country, stating that it is a key feature of the Muhammadu Buhari administration.
Adeosun said this on Thursday during a panel discussion at the 2018 edition of the Annual IPI Conference in Abuja.
She also stated that since it took over power in 2015, the administration had promised to focus on infrastructure as it recognized the fact that "the only way we can really grow, develop and improve the cost of living or standard of living of our people, is to have an effective infrastructure".
"Indeed, no country has been able to develop without infrastructure and its almost amazing that we've been able to get as far as we've gotten without essential infrastructure, without roads, without power, without rail, without housing, without all the enablements that an economy needs to grow," she stated.
Read Also: LIVE: Buhari, Top Govt Officials Attend IPI World Congress In Abuja
According to her, it is for that reason that the government continues to make efforts to improve the nation's infrastructure.
Speaking further, the finance minister also noted that in the 2018 Budget which was passed on Wednesday, a total of 1.6 trillion was allocated to infrastructure – a development which she described as a rare feat in Nigeria's economic history.
"So one of the things that this government said from the beginning is, we are going to focus very strongly on infrastructure.
"In the budget that just closed, we released close to 1.6 trillion on infrastructure and that's never been done in this country so our commitment to spending on infrastructure is part of our Economic Recovery and Growth Plan and its imbedded in the budget that was just signed yesterday".
Adeosun also stated that following the huge allocation, in a short while, Nigerians will begin to clearly see the efforts of the government in terms of projects delivery.
"There's a huge allocation for infrastructure and I think that in the next few month, you'll begin to see projects completed because some of these are multiyear projects.
"You will see projects being completed and commissioned and people will see that this government has taken the project from beginning to end and finish things which is very important and we are committed to that," she said.
Other panelists included the Minister of Trade, Industry and Investment, Okechukwu Enelemah; the Minister of Interior, Abdulrahman Dambazzau, the Minister of Information and Culture, Lai Mohammed and the Chairman Channels Media Group, Mr John Momoh (OON), who moderated the panel discussion.
The President, Mr Muhammadu Buhari, was also present, among other distinguished guests.