2018 Budget: We Included New Projects To Correct Geopolitical Imbalance, NASS Replies Buhari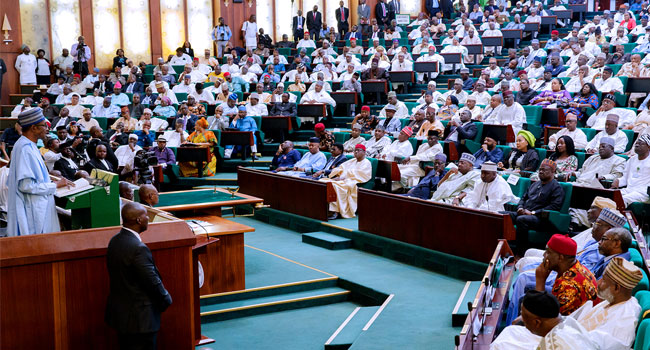 The National Assembly has explained that the adjustments made in the 2018 budget were made by the legislature to correct the alleged geopolitical imbalance in the Appropriation Bill presented by President Muhammadu Buhari.
Chairman of the Senate Committee on Media and Public Affairs, Senator Aliyu Sabi-Abdullahi, in a statement jointly signed by the House of Representatives, Razak Nandas, in Abuja on Friday also replied criticisms made by President Muhammadu Buhari that federal lawmakers amended the 2018 budget.
"Adjustments and reductions in the locations, costs and number of projects approved were made in order to address geopolitical imbalances that came with the Executive proposal.
"The number of projects had to be increased in order to give a sense of belonging to every geopolitical zone of the country to ensure socio-economic justice, equity, fairness, and to command National loyalty.
"The introduction of new projects was done to ensure the promotion of the principles of Federal Character as contained in Section 14, subsection (3) of the 1999 Constitution of the Federal Republic of Nigeria as amended which states that "the composition of the Government of the Federation or any of its agencies and the conduct of its affairs shall be carried out in such manner as to reflect the federal character of Nigeria," the lawmakers said.
READ ALSO: We Have Spent $7.5Bn On Infrastructure In The Last Two Years – Lai Mohammed
The lawmakers, explaining the cuts made said this was done to reduce the funds in certain areas to areas of higher priorities like the generation of employment for Nigerian youths.
"It was stated that the legislature made cuts amounting to N347 billion which were meant for 4,700 projects. Again, these reductions of N347 billion were made from low priority areas to higher priority areas to support the generation of employment for our youth by MSMEs.
We took the decision to reduce the funds in some areas in order to ensure balance and equity in the spread and utilization of our national funds. Additionally, the figures given amounts of the reductions made by the National Assembly were unduly exaggerated as we did not make any substantial reduction on any project to the extent of affecting its implementation."
They also gave the exact detail of the projects where deductions were made.
"It should be noted that the counterpart funding for the Mambilla Power Plant, Second Niger Bridge/Ancillary roads, the East-West Road, Bonny-Bodo Road, Lagos-Ibadan Express Road and Itakpe-Ajaokuta Rail Project, was reduced by only N3,956,400,290 – which represents only 1.78 % of the total N222,569,335,924 submitted by President Buhari. This left these projects with N218,612,935,634 which cannot negatively affect their implementation. This obviously contradicts the claim that these projects lost "an aggregate of N11.5 billion."
Listing 24 projects added to the 2018 Appropriation Bill, the lawmakers said the additions were made due to the increase in the benchmark price of oil and they were duly appropriated by the National Assembly after full consultations, and in many cases, requests by the Executive branch through the Ministry of Budget and National Planning.
Project Name                                                        Amount
1          Augmentation to unity schools meal subsidy in Education Sector           3,701,587,104
2          Outstanding liability on exchange rate differential for 2015 & 2016 Bea ongoing remittances to 12 Bea countries (scholarship)   3,265,720,064
3          Rehabilitation of block C, D, G & H at the Headquarters and Lagos state office of Federal Ministry Of Industry, Trade & Investment   1,207,942,115
4          Construction of Kashimbilla/Gamovo multipurpose dam 2,000,000,000
5          Strengthening public health against LASSA fever/other outbreaks: procurement and installation of incinerators, procurement of personal protective equipment, ribavirin and laboratory reagents and training of health personnel, construction of isolation ward at University of Abuja teaching hospital, Gwagwalada 2,000,000,000
6          Fast Power Programme Accelerated Gas and Solar Power Generation 12,500,000,000
7          Expansion and reinforcement of infrastructure in  11 distribution companies to reduce stranded generation capacity     30,000,000,000
8          Alternative energy development fund 1,000,000,000
9          Completion of headquarters building (FMWA)         500,000,000
10       Construction of 3000 capacity maximum security prison in Abuja (Phase I)            6,031,862,972
11       Procurement of  3 x jf17 thunder aircraft       12,792,939,682
12       Security vote (including augmentation of  shortfall in operational funds) for Nigerian Navy  3,000,000,000
13       Department of state security – pensions (including arrears)         6,318,326,710
14       Contributions to international Organisations 11,000,000,000
15       Contingency 2,800,000,000
16       Military operation: Lafiya dole & other operations of the armed forces            3,000,000,000
17       Subscription to shares in international Organisations         11,000,000,000
18       SDG special projects 3      8,000,000,000
19       Contingency (capital)        2,000,000,000
20       Promotion, recruitment & appointment for police service commission            5,393,947,080
21       Additional provision to some security agencies        10,000,000,000
22       Additional provision of 82b naira on critical federal roads e.g. rehabilitation of Abuja-Kaduna-Zaria-Kano 10b naira, rehabilitation of Lagos-Badagry-Seme road 4b naira, rehabilitation/dualisation of Calabar-Itu-Ikot Ekpene-Aba-Owerri Road 7b     92,000,000,000
23       Additional 12b naira to new federal universities      12,000,000,000
24       National Institute for Legislative Studies (NILS)        4,000,000,000
TOTAL           245,512,325,726
They, therefore, urged executive appointees to ensure that they brief President Buhari with the truth and facts of their engagement, "to promote healthy and harmonious relationships between the Executive and the Legislature."
President Buhari had on Wednesday criticised the National Assembly for reducing allocations for some projects and including thousands of projects into the budget without consultation with the Executive.
He said, "The National Assembly made cuts amounting to 347 billion Naira in the allocations to 4,700 projects submitted to them for consideration and introduced 6,403 projects of their own amounting to 578 billion Naira.
"Many of the projects cut are critical and may be difficult, if not impossible, to implement with the reduced allocation.
"Some of the new projects inserted by the National Assembly have not been properly conceptualised, designed and cost and will, therefore, be difficult to execute."
According to the President, not only did it take the lawmakers longer than expected to pass the budget, the final outcome was not what was expected.