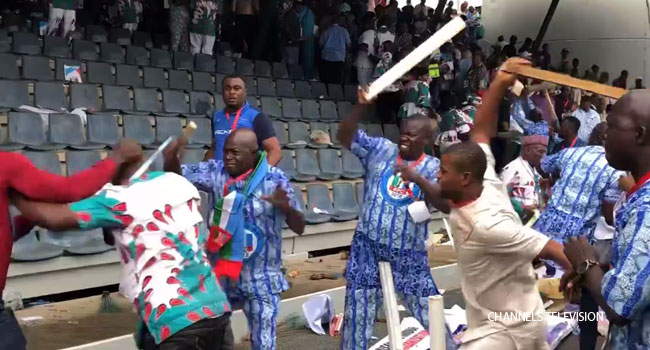 Some delegates at the ongoing All Progressives National Convention have engaged each other in a free for all.
Trouble first started among delegates from Imo State before spreading to the Delta State delegates.
While the clash between delegates from Imo was brought under control by security operatives after a while, that between the Delta delegates was more intense with chairs being hurled and several people sustaining injuries.
It was gathered trouble began when a group loyal to Imo State Governor Rochas arrived at the stand reserved for Imo delegates and ordered others loyal to his deputy, Eze Madumere, to vacate the seats.
The order was resisted leading to fisticuffs with the private security of the governor allegedly getting involved with some people forcefully removed.
Just as security officials were trying to bring the situation under control the delegates from Delta State got engaged in an even more violent brawl.
The brawl was allegedly between supporters of O'Tega Emerhor and a former governorship candidate in the state, Great Ogboru.
According to delegates from the group, the faction loyal to O'Tega Emerhor had stepped out to eat but was stunned when they returned and found out that they had been unseated by another faction.
Their attempt to take their seats back ended in violence.
This occurred despite the heavy security presence at the venue of the convention which has President Muhammadu Buhari, Vice President Yemi Osinbajo, and the who is who of the party.