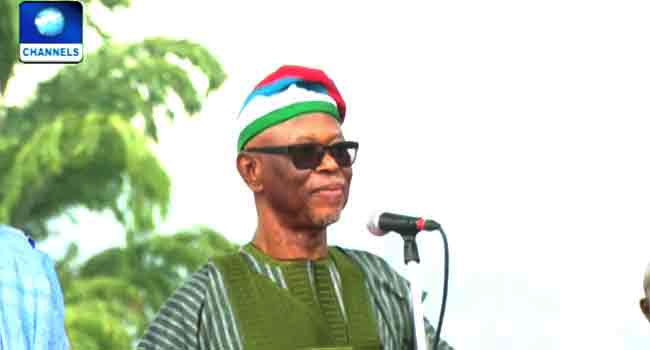 The outgoing National Chairman of the All Progressives Congress (APC), Mr John Odigie-Oyegun has praised the strength of the party and hailed President Muhammadu Buhari for his performance in office.
"I see one strong party. I see a party of passionate followers who are ready to follow our President because of the principled leadership," Odigie-Oyegun said during his speech at the APC National Convention in Eagles Square, Abuja on Saturday.
Oyegun, who emerged National Chairman of the party in 2014, also thanked members of the party for giving him the opportunity to serve.
He, however, decried the negative stories, "abuses" and "fake stories" that the Buhari administration has had to contend with.
Despite the obstacles, the APC Chairman believes the President has remained focus and that the party has always stood by the Federal Government.
"ln spite of the crude abuses, insinuations, fake stories that have been hurled in his directions, he has not allowed them to dissuade him in any way or distract him from his course," Odigie-Oyegun said.
Apart from the President, he also appreciated members of the party for choosing and allowing him to lead them for four years.
"I thank my colleagues of the National Working Committee (NWC), the Chairmen of the various state chapters some of which have returned to the saddle to provide experience for continuity," Odigie-Oyegun added.
He is optimistic that despite the divergent views in some quarters, party members have always pursued the interest of the party and that of the President.