IPI World Congress: Experts Discuss Challenges, Milestones In Journalism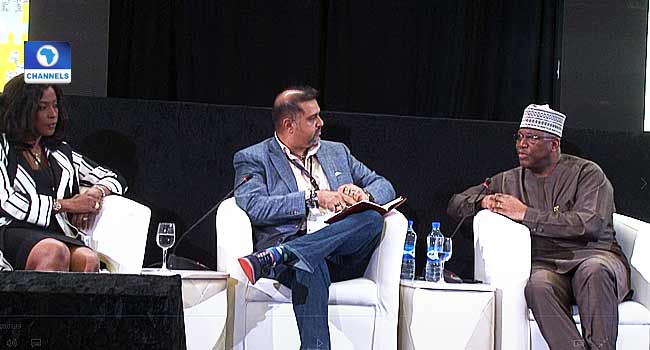 Editors, media executives and leading journalists on Friday, gathered for the 2018 edition of the International Press Institute (IPI) conference.
One of the key discussions of this year's gathering was the challenges and upsides that mainstream journalism has witnessed in the past couple of years.
CEO and Chairman of the Channels Media Group, Mr John Momoh, who spoke on the future of journalism, admitted that there has been a major disruption in the media industry, a situation he says the internet is responsible for.
"To say that these are extraordinary times for the news industry, will be an understatement. These are incredibly phenomenal, and prodigiously extraordinary – times.
"You don't have to be a news junkie to notice that your daily news has undergone a transformation. There's a complete disturbance, a complete disordering, a disarrangement, and indeed, a disarranging of the way we do our business.
"We now have new markets with new set of values that now threaten existing markets. You call it a Disruption. I choose to call it, an Upheaval; an upheaval caused as you well know by the internet, which has now turned journalism upside down – making it more participatory, social, diverse and partisan," he said.
Speaking further, he, however, noted that there have been some positive effects of the disruption on how journalism is done across the world.
He said while there is now a huge rise in availability of information and audience feedback, it has also given room for more stories to be shared and archived as fast as possible.
With the regular 'man-on-the-street' having the power to share information via social networks and microblogging platforms, Mr Momoh says content is now more readily available.
Read Also: Africa Is Looking To The Future. So Is Its Journalism – John Momoh
"We now live in a world where Journalism is being transformed, in the ways that news is produced, distributed, and used. New tools, and new practices, are affecting the ways we produce information.
"New facts are being unearthed on a daily basis; we now have more audience feedback being integrated into our news production; more voices being heard; and more diverse perspectives are being presented on the same news stories.
"Invariably, more stories are now available and archived, and searchable for longer periods of time. More people are now engaged more actively with the goings-on in the world—by taking photos, making videos, commenting on blogs and sharing the stories that matter to them.
"Television newscasts now include amateur videos, covering events like the Arab spring or the African migrant crisis. Such videos, with their shaky cameras and people's unguarded reactions, have much greater immediacy than professional footage.
Twitter, the microblogging service, has been integrated into coverage of events, no less the ongoing FIFA World Cup in Russia. At no time in the history of journalism have citizens become more engaged in reporting their own stories; as the man on the street assumes the role of a news reporter," Mr Momoh said.
Others at the event included the country Director of Google Nigeria, Juliet Ehimaun.