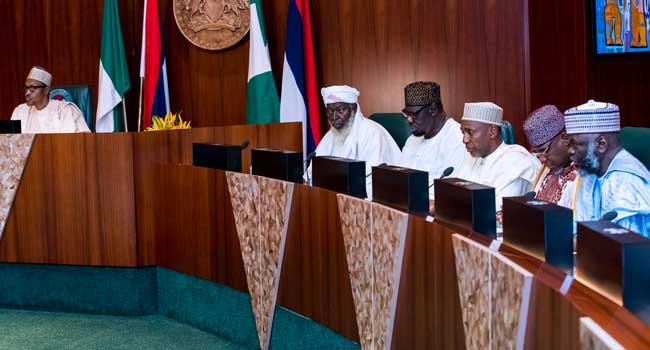 President Muhammadu Buhari says he cannot go to jail because is satisfied with what he has.
In a statement on Monday by his Senior Special Assistant on Media and Publicity, Garba Shehu, President Buhari noted that he does not rely on proceeds from government contracts.
"I have been in many places including (Ministry of) Petroleum. I would have gone to jail if I had taken an oil well. For integrity and honesty, I have no regrets. By this, I have contributed to my social safety. I won't go to jail," he told a delegation of the Supreme Council for Sharia in Nigeria at the State House in Abuja.
"I am satisfied with what I am. I am happy I have kept myself and people close to me from benefiting from government contracts," the President added.
He said he did not award contracts and did not care about who got them, so long as they did a good job at a cost that is justifiable to the nation.
A Difficult Situation
The President, who said he had been accused of many things, said his critics cannot accuse him of stealing.
"You cannot accuse me of stealing," he said. "I have appointed ministers and they are in charge. I appeal to their integrity."
"When they come here to the (Federal Executive Council) Chambers, we ensure they follow the due process. If I owned an oil well, I would have gone to jail," President Buhari insisted.
He further responded to a number of issues raised by the delegation, including complaints that Muslims had been marginalised in appointments to government institutions such as the military and the civil service.
The President said this illustrated how difficult his job is because he faced the same criticism from adherents of other faiths.
"I am in a difficult situation," he admitted.
On the burning issue of violent conflicts in some parts of the country, President Buhari said he was putting in his best.
He told the delegation that following his dissatisfaction with the performance of the police in Zamfara State, he ordered a massive transfer of officers and men who had stayed three years and above in the troubled state.
The President, however, appealed to the religious leaders to instruct their followers on the importance of possessing their own voters' cards which he described as a "national entitlement," and to preach justice to all which is an instituted pillar of Islam.
President Buhari, who revealed that he had received a "stiff bill" from the Minister of Information and Culture, Lai Mohammed, for the restoration of the dilapidated infrastructure and facilities of the Federal Government-owned radio stations in all states of the federation, promised that something would be done.
Speaking on behalf of the delegation, the Vice-President, Sheikh Hadiyyatullahi Abdulrashid, commended the President for accomplishing much of what he promised before his election.
He likened him to the captain of a capsising ship and the messiah needed by the country.
Sheikh Abdulrashid also spoke about the alleged marginalisation of Muslims, violent conflicts between farmers and herdsmen, the problems of drug abuse among youths, as well as the fate of the Federal Radio Corporation of Nigeria (FRCN) Kaduna, among other issues.