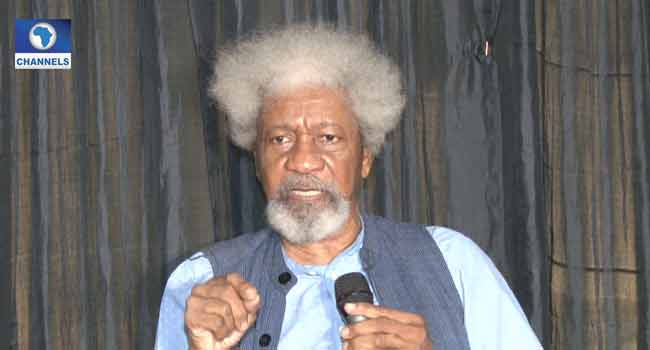 Nobel Laureate Professor Wole Soyinka wants President Muhammadu Buhari to rise to the occasion, match words with action and stop the killing spree by "murderous herdsmen".
In a statement on Wednesday, Professor Soyinka said it is not enough for the President to distance himself from killer herdsmen as what is required is for the country's leader to make the killer herdsmen pay for their crimes.
The statement entitled "ON DEMAND: A Language of Non-Capitulation, Non-Appeasement" read in part, "Buhari had yet to speak in the language that these murdering herdsmen understand – simply, that forceful seizure of land will not be tolerated in any part of a federation under his governance.
"That the temporary acquisition of weapons of mass elimination by any bunch of psychopaths and anachronistic feudal mentality will not translate into subjugation of a people and a savaging of their communities.
"That any such gains are illusory and temporary and will be reversed. The plaint of 'injustice' is a misjudgment of the injustice done directly to the victims, and vicariously to the rest of us who turn to the news with dread every day, wondering what new stomach-churning accounts of the gory agenda on their humanity will replace the normal concourse of humanity."
The Nobel Laureate's statement comes a day after President Buhari paid a condolence visit to Plateau State where suspected herdsmen attacked several villages over the weekend killing at least 100 people.
While commiserating with the people of Plateau, the President told them that "there is some injustice" in the criticism he has received concerning his reaction to the killings across the country.
"The Farmer knows that the Nigerian cattle herder that he knows doesn't carry nothing more than a stick," President Buhari said, adding that occasionally, the herder carries "something to cut grass to feed his cattle."
"But the present herder, I am told, carries AK47 and people are even blaming me for not talking to them because maybe (they say) I look like one of them. There is some injustice in these aspersions."
Professor Soyinka, however, believes that the President's focus should be on how grave the situation is.
He said, "Certain unconscionable events have taken place, and cannot be ignored. Entire communities have been erased from the national landscape. Thousands of family units are in mourning, survivors scarred and traumatized beyond measure.
"Famine looms in many areas, even in those lodged in acknowledged breadbaskets of the nation. Impunity, gleeful and prideful impunity substitutes for decent self-distancing from once unthinkable crimes – let us not even speak of expressions of remorse and human empathy.
"The instigators, increasingly fingered as directors of human carnage are strutting around, defiant, justifying the unspeakable, daring a nation – there is no other word for it – daring governments and nation to attempt to reverse their categorization of communities as culpable, sentenced and deserving of some of the most revolting, onslaughts of ethnic cleansing that this nation has ever undergone."
Since January 1, 2018, when suspected herdsmen attacked villages in Benue killing 73 people, many Nigerians have been killed by the suspected herders in different parts of the country. Taraba, Plateau, Zamfara and Adamawa are among states that have witnessed series of attacks and killings.
Despite the deployment of the military, police and other security agencies as well as the launch of military operations in affected areas, the killings have continued.
For Professor Soyinka, it is important for the government to note that the situation will only worsen if it allows killer herdsmen to equate human lives to cattle a mindset he believes is a factor in the attacks and killings.
He said, "Mr. President, do you know what I strongly believe? This recent planned massacre had a numerical target. The latest killing spree is the formal annunciation of a new law. From now on, for every missing, maimed, even legally seized cow – perhaps for trespassing and damage – one human being shall die, and commensurate land shall be forfeited.
"Make no mistake, that is the message! Berom or Ondo, Tiv or Efik. Egba or Igalla – it makes no difference – this is the language, and if your government does not understand it yet, we, whose field is language, both spoken and symbolic, must decode it for you."
According to Professor Soyinka, while statements, words of encouragement, solidarity visits, deployment of special forces and more are important, far-reaching but immediate action is needed to halt the bloodshed.
"It is a time of far-reaching, yet immediate decisions. The nation is dying. The time for false pride is over. If this nation lacks the necessary technical resources, then there remains only one blameless, overdue recourse: "Get Help, Mr. President!"" he said.