Don't Recognise Oshiomhole As APC Chairman, PDP Tells INEC
The Peoples Democratic Party (PDP) has called on the Independent National Electoral Commission (INEC) not to recognise Mr Adams Oshiomhole as the new National Chairman of the All Progressives Congress (APC).
PDP National Publicity Secretary, Kola Ologbondiyan, said this on Wednesday at a meeting with party leaders from Kogi State at the party's National Secretariat in Abuja.
He claimed that the former Edo State governor cannot be recognised by the electoral umpire because his emergence by affirmation was in violation of the democratic requirements of direct voting by delegates.
Ologbondiyan also accused the governors elected on the platform of the APC of diverting monies belonging to their states to fund the party's national convention which held over the weekend.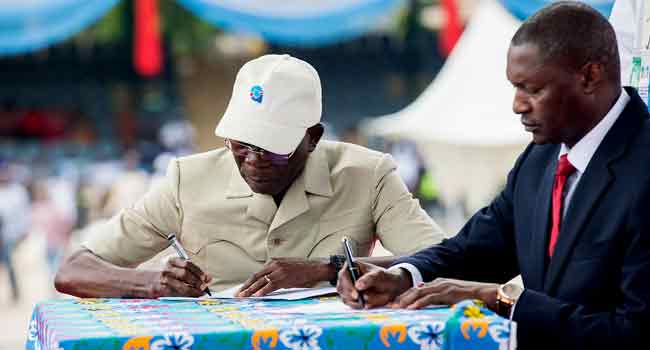 'World's Poverty Capital'
He then called on the Economic and Financial Crimes Commission (EFCC) to commence an investigation into the matter, saying about N3.6 billion was allegedly diverted.
"It is unimaginable that while Nigerians are suffering untold economic hardship, including unpaid salaries, due to the misrule of the APC, governors elected on the platform of the APC diverted N150 million each, amounting to a humongous N3.6 billion to fund their wasteful national convention in Abuja," the PDP spokesman claimed in a statement.
"Recently, the Brooking Report shows that under President (Muhammadu) Buhari and APC governors, millions of Nigerians are daily dropping below poverty line. According to the report, Nigeria under Buhari has become poverty capital of the world.
"There are hunger and starvation everywhere, yet the APC stole N3.6 billion from public coffers to fund its national convention," he added, although the allegations have not been proven to be true.
Ologbondiyan further accused the ruling party of corruption, claiming petitions against its national chairman at the EFCC were in the public domain.
According to him, the PDP restates its demand that the EFCC immediately commence an investigation into the said petitions.
The opposition party spokesman noted that failure to do so, the agency would have no ground to continue to arrest, investigate and arraign other Nigerians on allegations of corruption.