President Buhari Mourns Former CBN Governor, Adamu Ciroma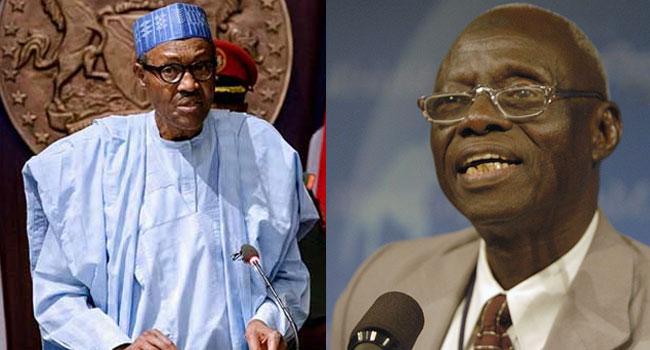 President Muhammadu Buhari has extended his condolences to the family of a former governor of the Central Bank of Nigeria, Adamu Ciroma, who died on Thursday.
The President received the news of Ciroma's death with sadness, a statement by his Special Adviser on Media and Publicity, Mr Femi Adesina, said.
Ciroma who was also a former Minister of Finance reportedly died at a hospital in Abuja on Thursday after a protracted illness.
President Buhari believes the elder statesman who played many roles, including as a political leader and minister, "at various points in his remarkable life, will be long remembered for his remarkable service and dedication to the country's unity, progress, and stability".
According to the statement by Mr Adesina, Ciroma would be honoured for his legacies.
"President Buhari also affirms that the late former CBN Governor will be honoured too for his contributions in promoting democracy in Nigeria and his legacies should be a constant reminder to politicians who wish to work for the good of their communities and our great country," the statement read.
The President, who also extended his condolences as well as those of the Federal Government and all Nigerians to the government and people of Yobe State over Ciroma's death, prayed that God will grant him eternal rest and comfort his family, relatives, friends, and associates.
He received his secondary education at Barewa College in Zaria, Kaduna State; and went to the University of Ibadan before going on to become the pioneer editor of New Nigerian Newspaper in Kaduna.
From 24 September 1975 – 28 June 1977, he was governor of the Central Bank of Nigeria. Two years later, he made an unsuccessful bid to become the presidential candidate of the National Party of Nigeria.
Alhaji Shehu Shagari who won the NPN ticket and became on October 1, 1979, later appointed him as Minister of Agriculture (1982-83).
Ciroma would later play a prominent role in the return to civil rule in 1999. He was a founding member of the Peoples Democratic Party and served as Minister of Finance from 1999 to 2003 under the Olusegun Obasanjo administration.