Senate Investigates Alleged Killing Of Corps Member By Police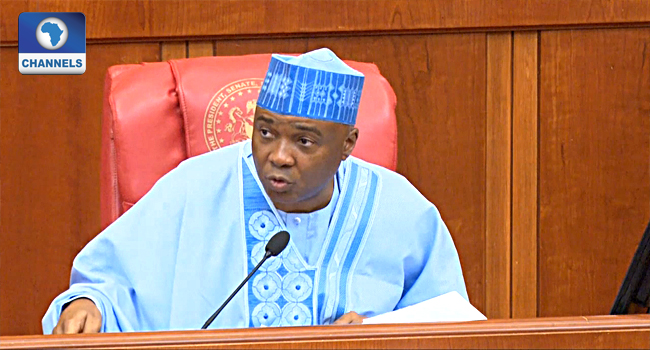 The Senate has resolved to investigate the death of a corps member who was allegedly shot by a police officer in Abuja.
The lawmakers made the resolution on Thursday while deliberating on the matter during proceedings in the upper chamber of the National Assembly in Abuja.
Senator Atai Aidoko cited Orders 42 & 52 to draw the attention of the Senate to the death of the lady identified as Linda on Tuesday.
According to him, Nkechi was on her way home in the early hours of the day when she was shot and was later rushed to a hospital in the Federal Capital Territory.
The lawmaker lamented that the deceased would have still been alive if not for the medical officers who rejected to treat her because they needed a police report.
Another member, Senator Mao Ohuabunwa, stressed the need to call the police to order saying he could only imagine the kind of trauma the family of the deceased would be going through.
"We must ensure that the bill that directs hospitals to treat patients without waiting for a police report is made a priority," he said.
Also condemning the incident, Senate President Bukola Saraki wondered how a police officer could have mistakenly shot in such a way that would lead to the death of the victim.
He also faulted the refusal of the hospital authorities to treat the victim without a police report despite the law prohibiting such action.
"We have passed this Compulsory Treatment and Care of Victims of Gunshots Act, and the President assented to it on December 30, 2017," the Senate President recalled.
He added, "If they treated her, she would not have bled to death. Until we start holding people accountable for these kinds of incidents, they will not stop. Is it that they are not well-informed? Is it that they were not aware that such a law exists? There are a number of issues that we need to address."
The lawmakers further resolved the observe a minute's silence for the deceased and mandated the Committee on Youth and Sports to investigate the killing.
They also mandated the Committee on Health to investigate the non-treatment of the patient, while the Committee on Police Affairs was directed to investigate the cause of the incident.
The three committees were asked to report back to the Senate in two weeks.
Senator Saraki further thank the lawmaker who raised the motion, saying the life of every Nigerian matter, especially the young ones who are just about to start their lives and careers.
"This is a loss that could have been avoided. We must continue to show that we will continue to defend our people and defend them here," he said.