Catholic Church Plans Another Protest To Force DRC President's Resignation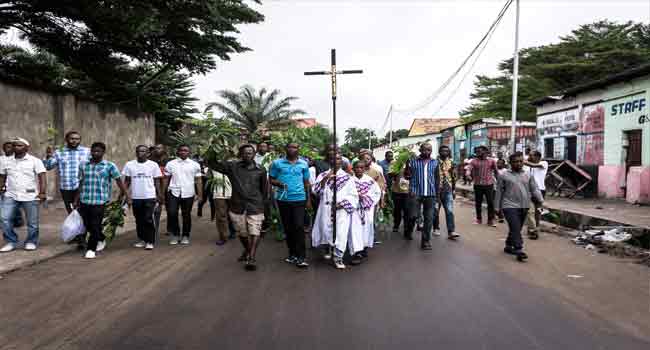 A group of Roman Catholic lay movements in Democratic Republic of Congo has announced three days of nationwide "major actions" in August aimed at forcing President Joseph Kabila to resign.
"Times are serious — the peace and stability of the country as well as that of the region are under threat," the Lay Coordination Committee (CLC) declared in a statement released after weekend planning.
Lay leaders of the church, which is a powerful force in the vast central African country, "will issue an appeal for general mobilisation in all key sectors of the nation in its first big actions to take place on August 12, 13 and 14," it said.
The population will be urged to mount linked protests in August, including "peaceful marches, sit-in demos, 'dead city' operations, general strikes and acts of civil disobedience," the statement. "Dead city" operations aim at bringing cities to a standstill.
The aim is to get rid of Kabila, who has been in power since 2001 but stayed on after his mandate expired in December 2016, and his government, seen by the movement as "real obstacles to credible, transparent and peaceable elections."
At the end of 2017 and early this year, anti-Kabila demonstrations organised by Roman Catholics led to a violent crackdown by security forces, with a total of at least 15 dead reported around the country.
The CLC accuses Kabila of manoeuvring to run for office again and obtain a third mandate, in breach of a constitutional ban and his duty to turn power over to the victor in elections set to take place on December 23.
The platform of political parties in the national unity government gathered around Kabila plans to see that "the name of its candidate will be known before August 8", spokesman Felix Kabange has told the media.
August 8 is the last day for electoral authorities to accept candidates for the presidential polls.
AFP