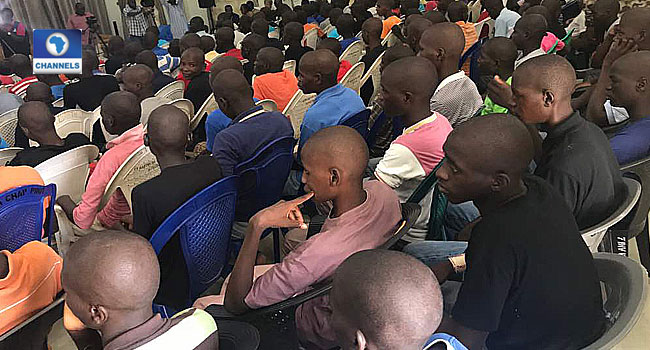 The Nigerian Army has handed over 183 teenagers who were previously working with Boko Haram terrorists to the United Nations.
The teenagers were on Monday handed over to officials of the United Nations Population Fund (UNFPA) and United Nations Children's Fund (UNICEF) in Maiduguri, the Borno State capital for rehabilitation and re-integration.
The Theatre Commander, Operation Lafiya Dole, Major General Nicholas Rogers released the teenagers who include 175 male and eight female.
Major General Rogers during the handing over noted that they were arrested from various locations within the northeast.
President Muhammadu Buhari earlier in March 2018 promised that the Federal Government will offer amnesty to members of the Boko Haram sect that are willing to drop their arms.
He made this promise while receiving freed schoolgirls who were previously abducted from their school in Dapchi, Yobe State by Boko Haram terrorists.
He said, "While further efforts are being made to secure the release of every abducted citizen in Nigeria, Government is ever ready to accept the unconditional laying down of arms by any member of the Boko Haram group, who show strong commitment in that regard."
Also, 95 former Boko Haram terrorists were recently reintegrated into the Nigerian society after a series of training, vocational skills acquisition, and rehabilitation courses,
The repentant terrorists were trained by the Nigerian Army wing charged with the responsibility of Deracialising, Rehabilitation and Reintegration (DRR) in Gombe State.
They were rehabilitated by instructors from departments and agencies from the Federal Government and the National Directorate of Employment (NDE) with the aim of retraining them to become law-abiding citizens.
See more pictures of the teenage repentant fighters…