NLC Seals Off MTN Offices In Ibadan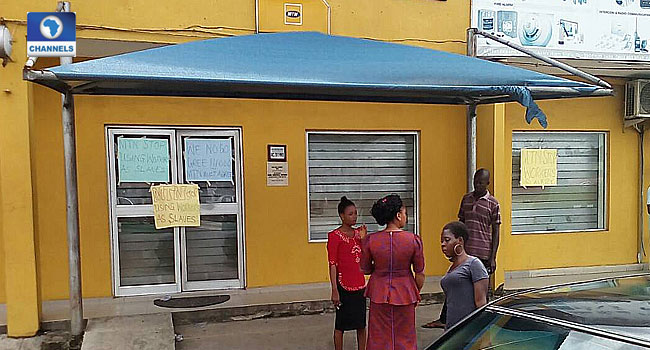 The Nigeria Labour Congress (NLC) Oyo State chapter has sealed off offices belonging to telecommunications company, MTN across Ibadan, the Oyo State capital.
Led by the NLC chairman in the state, Mr Waheed Olojede, executives and some members of the union marched to seal the offices for their alleged refusal to allow employees join labour unions.
Meanwhile, the organisation in a statement signed on Monday by its Corporate Relations Executive, Tobechukwu Okigbo explained that the protest by NLC where officials picketed their offices across the country was needless.
They also alleged that some of their workers were injured during the protest.
Olojede, however, told journalists that the 3-day closure is a warning to the conglomerate to allow the commencement of dialogue to fashion out modalities and rules of engagement.
Read Also: NLC Protest: MTN Denies Non-Compliance With Labour Laws
He added that until the company decides to tow the path of decency and allow better labour relations among employees, the offices will remain closed even across the country.
The labour leader also noted that other telecom companies will be treated the same way but that the NLC decided to start with MTN because it is the largest in the country.