Influx Of IDPs From Taraba Will Hurt Us Soon, Adamawa Govt Laments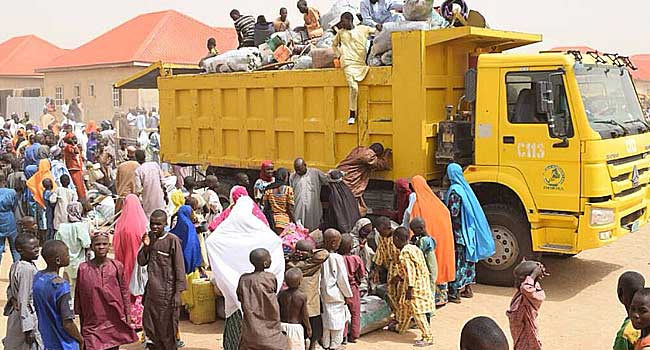 The Adamawa State government says a humanitarian crisis may be looming in the state, as a result of the herdsmen-farmers crisis in parts of the country.
Governor Mohammed Jibrilla raised the alarm in a statement on Thursday by the Commissioner for Information and Strategy, Ahmad Sajoh.
He attributed the likely cause to the influx of Internally Displaced Persons (IDPs) from communities attacked by armed herdsmen in neighbouring Taraba State.
READ ALSO: Many Feared Killed As Suspected Herdsmen Attack Adamawa, Taraba Communities
The governor explained that the situation was a spill-over of the crisis in Bajum-center in Taraba, lamenting that the IDPs were already trooping into Gorobi in Mayo-Belwa Local Government Area (LGA) and Kpasam in Demsa LGA of Adamawa.
He was worried that the present situation has worsened the humanitarian crises in the northeastern state of the country.
Governor Mohammed, however, condemned at the spate of attacks in some communities in Adamawa and vowed to mobilise all resources to ensure that the situation was brought to a halt as soon as possible.
He noted that the government would no longer condone acts capable of undermining peace in the state and scuttling the developmental efforts of his administration.
The governor further commiserated with the families of victims of herdsmen attacked in Bajumi-Yashi community in Demsa, Numan and Kola in Guyuk.
In the face of repeated killings as a result of the herdsmen-farmers crisis, Adamawa has suffered no fewer than three attacks in the last three weeks.
At least 18 people were reported killed and several others injured when Dowayan village in Demsa LGA came under an attack On June 22.
The villagers told Channels Television after the attack that the assailants struck around 8:00 pm, razing several houses with many properties destroyed.
On Wednesday last week, no fewer than five persons were killed in a fresh attack on Mararaban Kola community in Guyuk LGA.
The police authorities in the state confirmed that four men and a woman were killed, with a couple seriously injured while the attackers also razed seven houses.
The latest was the suspected herdsmen invasion on five communities in Numan and Demsa LGAs on Sunday where many people were said to have been killed.
The attackers also invaded Lau Local Government Area of neighbouring Taraba State destroying properties.
The lawmaker representing Numan in the Adamawa State House of Assembly, Sodom Tayedi, told Channels Television that the attack started at about 4:00 p.m. and lasted till the night.