We Are A Government That Delivers On Its Promises – Buhari
President Muhammadu Buhari on Thursday said the All Progressives Congress (APC) led Federal Government has proven in many ways that it is committed to fulfilling its promises to the people.
He said this when he inaugurated the Abuja Light Rail System in the Federal Capital Territory (FCT).
READ ALSO: Buhari Launches Abuja Light Rail, Inspects Airport Terminal
"Today, what we have in the Federal Capital Territory is another evidence that we are a government that delivers on its promises," the President said.
He added, "I have observed keenly other milestones that this administration has achieved, especially in the areas of education, public utilities and infrastructure development.
"I am very pleased to be here today to formally commission the Abuja Light Rail System. The completion of this very important project is a dream come true."
President Buhari noted that the feat recorded clearly demonstrates the government's commitment to addressing critical infrastructural projects.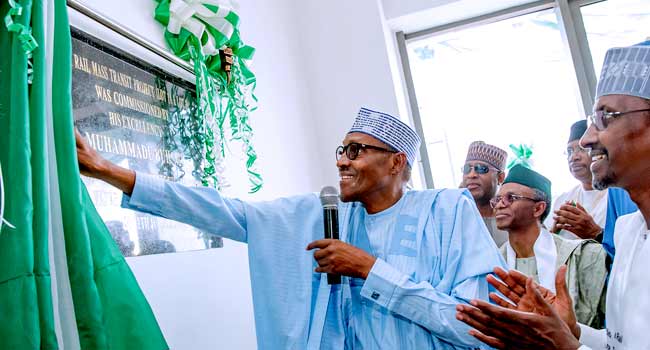 The President who described transportation as the live wire of any city was optimistic that a modern rail service would bring about a boost to the economy of the nation's capital and enhance social life of the residents.
He revealed that what they have on the ground were coaches meant to provide skeletal services as they await the main set of the rolling stock for full operations.
President Buhari said he had been briefed on the outcome of the recent visit of the FCT and Finance ministers, Muhammed Bello and Kemi Adeosun, to China, during which the MOUs and agreements for the procurements of the main rolling stock were signed.
He further assured Nigerians of the government's continued support for all the negotiations towards the realisation of the Abuja Light Rail system.
The President commended the FCT Minister for the hard work and sense of purpose towards realising the long-awaited modern transportation system for both residents and visitors in the nation's capital.
He also appreciated the support and patience of the residents during the period when the government was working to improve the FCT transportation service.
"Let me place on record the Nigerian Government's appreciation to the Government of China and the EXIM Bank of China for their support on this and many other projects currently being executed in the country," he said.
"This gesture further cements the already existing cordial relations and developmental partnership between Nigeria and the People's Republic of China."
The President, however, challenged the FCT Administration, especially the management of the rail services to ensure efficient operations, good customer service, and maintenance culture in the operations of the rail.
Those who witness the occasion include Kaduna State Governor Nasir El-Rufai, the Secretary to the Government of the Federation, Mr Boss Mustapha, as well as some ministers.