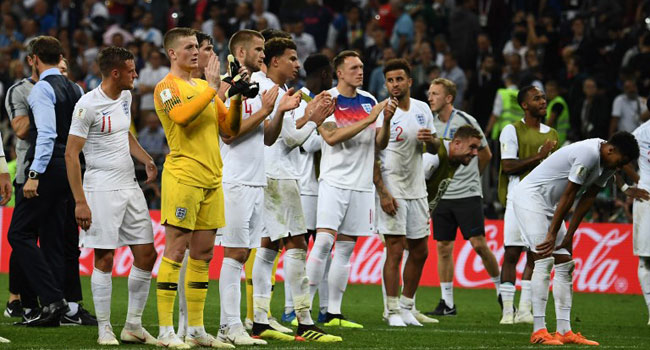 Britain's best-known football song "Three Lions" topped the British pop charts on Friday — two days after England was knocked out of the World Cup semi-finals by Croatia.
The song, by David Baddiel, Frank Skinner and the Lightning Seeds, containing the line "Football's coming home", and has become the de facto anthem of English football since 1996.
England gave its best World Cup performance since 1990 in Russia earlier this week reaching the last four of the tournament.
It is the first time in the British charts' 66-year history that a song has racked up four spells at number one, each time with the same artist line-up.
The original 1996 version topped the charts twice; a 1998 version with updated verses went to number one, and now the original version is back at the top spot.
Comedians Baddiel and Skinner penned the lyrics to the tune written by The Lightning Seeds' frontman Ian Broudie.
It was originally written for the 1996 European Championships — the last time England reached for the semi-finals of a major tournament.
The "football's coming home" refrain, originally referring to England hosting the Euros, came to represent the hope that the sport's founding nation could win the World Cup, and was sung with gusto by fans throughout Russia 2018.
"England gave us everything at this World Cup," explained BBC radio chart host Scott Mills.
"The whole country got swept away with it, and 'Three Lions' being the official number one shows how we really got behind our amazing team."
Hope over experience
Baddiel told a 2016 BBC documentary about what lay behind the song's bittersweet sentiment.
"The lyrics were that thing of trying to chime with the real experience of an England football fan, which is not that we're going to win — but nor that we think we're going to lose: it's somewhere in between," he explained.
"It's hope over experience. We're probably going to lose, but you never know; you never know."
The track racked up 80,000 "combined sales" this week, made up of 43,000 sales, 6.8 million audio streams and 5.2 million video streams.
Baddiel said on the song returning to number one: "Well, this is awkward."
Skinner added: "I must say, as consolation prizes go…"
The song in in the top 35 best-selling singles of all-time in Britain, having racked up more than 1.6 million sales.
The only other songs to have managed four stints at the top of the British charts are "Do They Know It's Christmas?", "Unchained Melody", "I Believe" and "Singing The Blues".
Beaten 2-1 after extra time by Croatia, England face Belgium in the third-place play-off on Saturday.
The two sides met in the group stage, when Belgium won 1-0.
Both had already qualified for the knock-out stages and fielded weakened teams to preserve their best players.
AFP