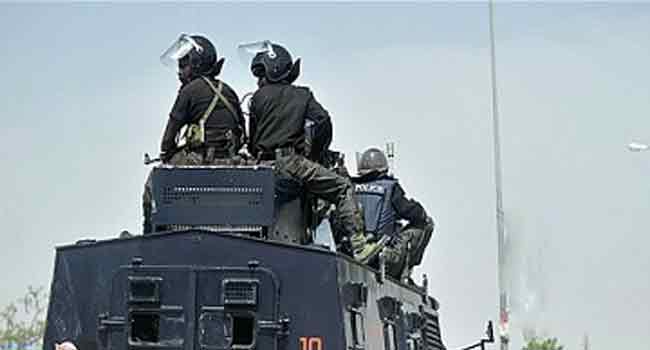 Police say the attack on Jakana town in Konduga Local Government Area (LAG) of Borno State was successfully repelled by security operatives.
The spokesman for the Borno State Police Command, Edet Okon, confirmed this in a statement to Channels Television on Friday.
While the casualty figure has yet to be ascertained, Okon explained that members of the Boko Haram terrorist group invaded the town in about 30 vehicles on Thursday evening.
He said the police swiftly deployed combat units of the Special Anti-Robbery Squad (SARS) and Counter Terrorism Unit (CTU) in the town to support the security operatives on the ground.
Sources had told Channels Television that the insurgents launched the attack, targeting a military base and the police station in the town.
But on arrival, they were engaged in a gunfight by troops of Operation Lafiya Dole of the Nigerian Army.
This lasted for more than two hours before the terrorists were chased out of the village by the security forces while the villagers were said to have fled into bushes for safety.
Jakana is a town located about 50 kilometres from Maiduguri, the Borno State capital.
It is situated along Maiduguri-Damaturu-Kano Highway, which is considered the safest route to and from Maiduguri.
The incident occurred just three days after a suicide bomber killed seven persons at Goni Modu Lashibe Mosque also in Konduga LGA.
Commissioner of Police in Borno, Mr Damian Chukwu, told reporters on Monday after the attack that seven people were also injured in the process.
He had consequently appealed to the people to be more proactive in reporting security threats in their environment to the security agencies.
"We need the public to be more security conscious, to be more preemptive. When they see faces that are not friendly or totally strange to their localities, they should promptly report to the security personnel, the Civilian Joint Task Force (JTF), or anybody through whom they know information can quickly reach the police, military, or any other security agency," Chukwu had said.