African Union Calls For Protection Of Rights In DR Congo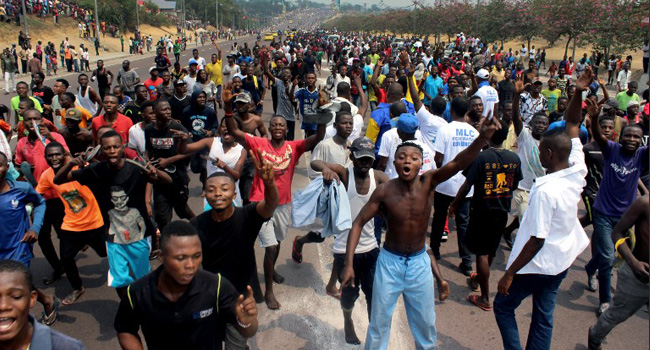 The African Union on Monday called for the "rights and freedoms of all Congolese" to be upheld, amid mounting tensions over the country's presidential race.
The influential Catholic church and the European Union also sought to persuade the DR Congo regime to ensure fair elections.
Candidates must submit their applications to run in DR Congo's long-delayed election, due on December 23, by Wednesday evening.
"At this crucial stage of the electoral process, the Chairperson of the Commission (Moussa Faki Mahamat) reiterates the need for all stakeholders… to ensure peaceful, transparent and truly inclusive elections are held," the AU said in a statement.
"(Mahamat) calls on all political actors to act responsibly and in the best interests of their country, which must prevail over all other considerations."
It was "crucial" that the rights and freedoms of all Congolese voters be respected and a "level electoral playing field" be ensured, it added.
The statement was issued after opposition leader Moise Katumbi was blocked from returning home last week to file his bid.
Katumbi, 53, a wealthy businessman and former governor of the province of Katanga, was barred from entering the DRC and charged with offences against state security, officials said.
He has been living in self-imposed exile in Belgium since May 2016 after falling out with President Joseph Kabila.
Police in Katumbi's stronghold of Lubumbashi, in the southeast of the country, fired into the air on Monday to disperse supporters calling for him to be allowed to return.
Opposition lining up
The European Union issued a statement supporting the AU's call.
Measures should be taken "to ensure a fair and credible electoral competition. The European Union will continue to monitor the situation carefully and in close consultation with its partners, primarily the African Union and the United Nations," an EU spokesperson said in a statement.
The UN peacekeeping mission to the DRC (MONUSCO) has retained its silence on the matter.
The Catholic Church on Monday urged authorities in Kinshasa to allow Katumbi into the country in time to register as a candidate.
"Such segregational treatment is not justified and can lead to unnecessary consequences that must be avoided," the Congolese Episcopal Conference (CENCO) said in a statement.
"Such a refusal in many ways resembles a denial of identity, which no human society can tolerate."
Another Kabila rival, former warlord and ex-vice president Jean-Pierre Bemba, 55, returned home last week. He officially launched his bid for the presidency on Thursday.
Vital Kamerhe, head of the Union for the Congolese Nation who came third in the 2011 election, on Monday said he had submitted his candidacy.
Another opponent, Felix Tshisekedi, leader of the Union for Democracy and Social Progress, will file his application Tuesday, his spokesman Peter Kazadi told AFP.
Polling machines from S. Korea
The Democratic Republic of Congo (DRC) has never known a peaceful transition of power since it gained independence in 1960.
The United States is ready to impose further sanctions on the DR Congo regime to dissuade Kabila from continuing his hold on power, the Financial Times reported Monday.
"The US is trying to convince Kabila to go between now and August 8," an unnamed source told the daily paper. "They're trying to squeeze his family and his finances".
DR Congo's electoral commission said Monday that 35,000 polling machines were on their way from South Korea.
The opposition called them "machines for cheating".
Kabila, 47, has been at the helm since 2001, presiding over a vast mineral-rich country with a reputation for corruption, inequality and unrest.
He was scheduled to stand down at the end of 2016 after his second elected term, technically the last permitted under the constitution.
He has refused to spell out whether he will seek a new term or perhaps declare his support for a chosen successor.
AFP