DSS DG's Sack: Osinbajo Did What Is Right – Presidential Aide
The Special Adviser to the President on Political Matters, Senator Babafemi Ojudu, says Acting President Yemi Osinbajo did the right thing by sacking the Director General of the Department of State Services (DSS), Mr Lawal Daura.
Senator Ojudu said this during his appearance on Channels Television's Sunrise Daily, following the termination of Daura's appointment after security operatives prevented lawmakers and others from entering the National Assembly complex in Abuja.
READ ALSO: Presidency Insists Osinbajo Wasn't Informed, Denies APC's Involvement
"He (Osinbajo) has just done what is right in the circumstance and not after praise," he said on Wednesday.
"We were shocked to see the DSS operatives at the National Assembly, particularly hooded and it was very embarrassing to the Acting President and we then went out to seek information."
The presidential aide noted that the decision of the DSS DG might be as a result of a misleading information or report of complicity within the security agency.
He, however, said Daura ought to have sought the consent of Professor Osinbajo who is acting as the Chief Security Officer of the nation in the absence of President Muhammadu Buhari who is on vacation.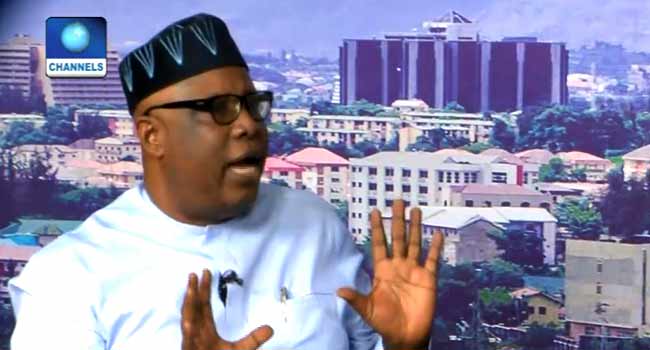 Ojudu said, "The Acting President was not informed, he was not told. If you are going to take such a measure as a security chief, you need to consult with the Commander-in-Chief of the country."
"If you sensed that trouble was coming and you then decided to barricade, the Chief Security Officer of the country needed to be informed and consulted. Then he would tell you whether it is right to do so or not right to do so," he added.
When asked if President Buhari was consulted before Daura was sacked, the presidential aide noted, "The Acting President is the Acting President; whether he (President Buhari) was consulted or not, I don't think it is important in this matter."
"What is important is that the Acting President finds something that does not augur well for our democracy and he acted quickly and reassured Nigerians and the rest of the world that our democracy is on course," he said.
Professor Osinbajo directed the termination of Daura's appointment on Tuesday after the security operatives barricaded the National Assembly.
The invasion had sparked criticism across the country, including reactions from the National Assembly leadership and some PDP leaders.