NASS Siege: Presidency Insists Osinbajo Wasn't Informed, Denies APC's Involvement
The Presidency has insisted that the Acting President, Professor Yemi Osinbajo, was not aware of the decision to deploy security operatives in the National Assembly premises.
Senator Babafemi Ojudu who is the Special Adviser to the President on Political Matters, said this on Wednesday during Channels Television's Sunrise Daily, a day after officials of the Department of State Services (DSS) prevented lawmakers from entering the National Assembly complex.
READ ALSO: Security Officials Storm National Assembly
"He (Osinbajo) was in the dark, he didn't know.
"He got to know about that incident like you and me," he added.
Ojudu, who also denied the complicity of the All Progressives Congress (APC) in the incident, said, "No single member of APC was at the premises of National Assembly when that happened."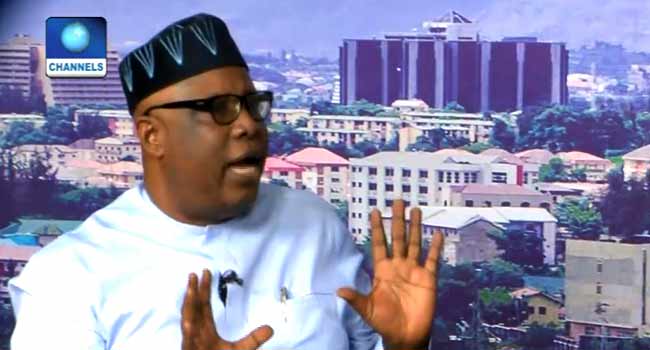 A senator had described the incident as an attempt to impeach the Senate President, claiming APC lawmakers were allowed into the complex while those of the Peoples Democratic Party (PDP) were denied entry.
But the presidential aide described the allegation as fake, insisting that the incident came as a surprise.
He revealed that the Acting President had sent him to the National Assembly complex to find out what went wrong as soon as they saw the report of the invasion on the news.
NASS Blockage: Osinbajo Sacks DSS Boss, Lawal Daura
Ojudu said he counted dozens of PDP lawmakers at the premises of the Assembly while none of their colleagues on the platform of the APC was present.
He also faulted the former Director General of DSS, Lawal Daura, for not seeking the consent of the Acting President before sending security operatives to the complex.
"If you sensed that trouble was coming and you then decided to barricade, so how did those people who entered managed to enter? the presidential aide questioned. "Who did you discuss with before even going to barricade?"
He added, "The Acting President was not informed, he was not told. If you are going to take such a measure as a security chief, you need to consult with the Commander-in-Chief of the country."
The incident triggered a widespread criticism across the country, including reactions from the National Assembly leadership and some PDP governors.
Professor Osinbajo had also condemned the incident and consequently directed the termination of the appointment of Daura who was asked to hand over to the most senior officer in the service.