"We're Proud Of You", Osinbajo Congratulates Teenage Girls Who Won Global Tech Competition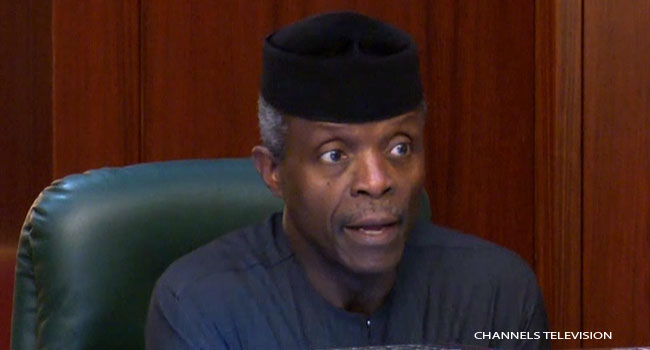 Acting President Yemi Osinbajo has congratulated a team of teenage Nigerian girls who represented the country and won the 2018 Technovation world pitch junior division in San Francisco, USA.
In a tweet on Friday, he said "These young ladies in Junior Secondary School, developed a mobile application called 'FD Detector' to tackle the problems of fake pharmaceutical products in Nigeria.
"Yesterday, they won the 2018 Technovation World Pitch in California. Congratulations! We are very proud of you".
Well done to Uchenna Onwuamaegbu-Ugwu, the founder of Edufun Technik STEM Center.

I understand that she and her company were responsible for mentoring the young ladies. Great job!

— Prof Yemi Osinbajo (@ProfOsinbajo) August 10, 2018
Read Also: Nigerian Teenage Girls Win Global Tech Competition In Silicon Valley
The girls, team Save-A-Soul, developed a mobile application called 'FD Detector' to tackle the problem of fake pharmaceutical products in the country.
The young Nigerian girls were selected from 2,000 mobile app developers to represent Africa at the world pitch.
This is the first time a Junior Nigerian team will emerge among the finalists to visit Silicon Valley and the Nigerian teenage girls will be pitching their app to investors in Silicon Valley, California.
Technovation is a program that invites girls to identify a problem in their communities and then challenge them to solve them by developing apps.
According to Team Save-A-Soul, Nigeria has one of the largest markets for fake drugs. The teenage girls from Anambra State plan to partner with the National Agency for Food and Drug Administration and Control (NAFDAC), using the app, to tackle this challenge.