NAFDAC Destroys Harmful Drugs, Items Worth N464m In Gombe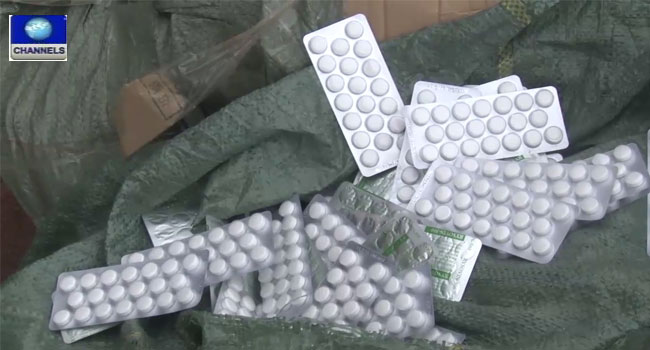 The National Agency for Food and Drug Administration and Control (NAFDAC), has destroyed fake and unwholesome products with a value of about N464 million.
According to a statement from the agency on Saturday, the goods were destroyed at a dump along Bajoga Road in the capital city of Gombe State.
The drugs include antibiotics, anti-hypertensive, antiretroviral, cancer drugs, anti-malaria, and herbal remedies.
Other items destroyed are controlled drugs such as codeine-containing cough syrup and tramadol, as well as tomato paste, non-alcoholic beverages, maize flour, and insecticides.
The statement read, "The counterfeit, fake and unwholesome products destroyed were seized from companies that engaged in sharp practices by gallant and committed NAFDAC officers during surveillance and enforcement activities.
"Other products were voluntarily handed over to the NAFDAC by compliant companies, sister agencies, and associations."
The agency assured Nigerians that it would continue to do everything possible to ensure that only safe and right quality medicines, wholesome foods and other regulated products were distributed and consumed in the country.
NAFDAC appealed to political, traditional and religious leaders to sensitise their members, subjects, and congregation on the dangers of drugs and substance abuse.
The agency warned smugglers of codeine-containing cough syrups, tramadol, substances of abuse and fake products to desist henceforth or face the wrath of the law, saying it has intensified surveillance and enforcement activities at all ports of entry.
It called for the establishment of Drug Abuse Control Committee comprising of NAFDAC officials and that of other relevant agencies by various state governments.
NAFDAC also urged the Gombe State government to provide office accommodation and vehicles for its use at each of the three senatorial districts for effective coverage.
The State Governor Ibrahim Dankwambo, who was represented at the site by the Commissioner of Animal Husbandry, Barka Sammy, assured the agency of continued support to ensure that the people consume only good quality and safe drugs.
He also directed the state media corporation to cover NAFDAC regulatory activities, towards sensitising the public on substandard products.